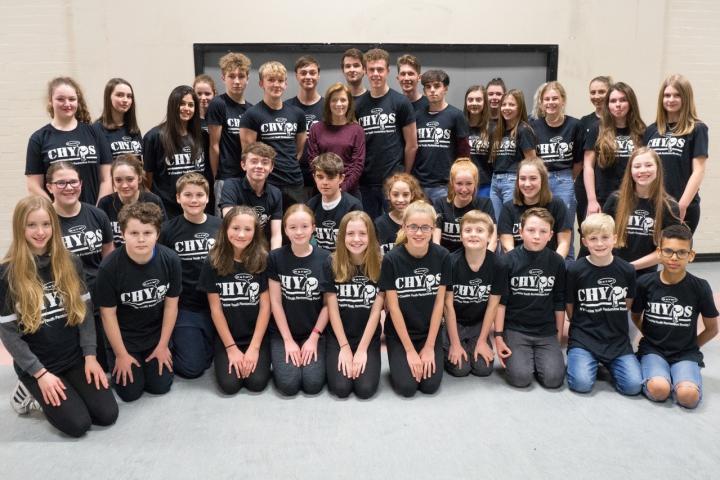 Award winning amateur theatre group CHYPS, Cheshire Youth Pantomime Society, is delighted to announce that this year's pantomime will be Beauty and the Beast.
Boasting a cast of children and young adults aged 11 to 19 from the local area this year's show is an updated version of this classic tale and an ideal choice for both big and little kids.
The cast has been rehearsing since September under the watchful eye of Director, Sally Hunt as they prepare for opening night on January 2nd, 2018.
Sally said "The cast has been brilliant. Starting in September you think you've loads of time, but we rehearse twice a week which is quite a heavy schedule for the kids on top of their school work and other external hobbies and activities. It's hard work, but they're an incredibly talented bunch and we've had a lot of fun along the way."
Patron, Jane Danson, who currently stars as Leanne in Coronation Street, commented "Panto is a real tradition and it's such good fun whether you're performing or just watching. I love supporting CHYPS and watching the cast grow year on year and it's so nice to see the enthusiasm they have at rehearsals. I'm really looking forward to watching; and they can expect plenty of booing and hissing from me!"
CHYPS is a registered charity and team fund raises relentlessly to ensure it generates the finances required to put on the week-long show.
Chairman Ian Hunt, who co-ordinates these efforts, said "We are so grateful to the sponsorship from local businesses and the support from the local community and parents of the cast as we couldn't do this without them. Thank you."
The year's cast will be led by leading lady Morgan Wild who will be playing the beautiful Belle and James Darroch who promises to give a far from beastly performance as he takes on the lead role.
Morgan said "I joined as part of the CHYPS band playing the drums and then a few years ago I thought I fancy being up there! I auditioned and joined the cast for Peter Pan and have had a ball. Sadly, this is my last pantomime as I'll be away at Uni next year – hopefully! So, I intend to leave on a high and I know it's going to be even better than last year."
The show runs from January 2nd to 6that The Woodford Centre with matinee performances on 3rd and 6th. To book tickets, priced £8, call 07910 187583 or visit www.chypspanto.com.
Photo: Jane and the cast of CHYPS.
Tags: