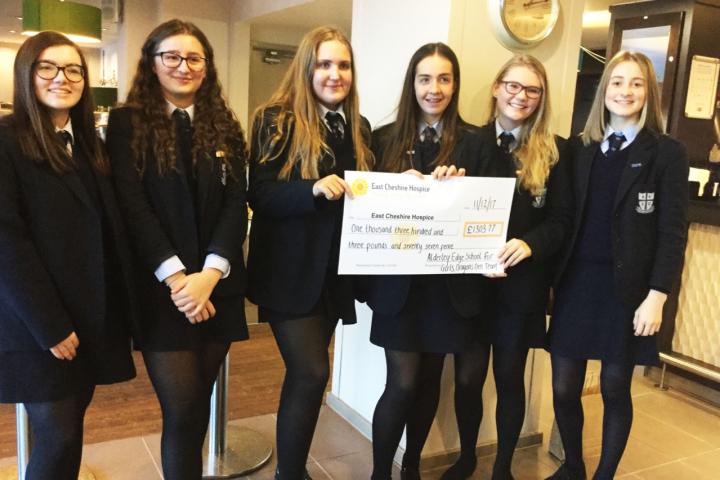 Alderley Edge School for Girls' Year 10 Dragon's Den team have raised £1,303 for East Cheshire Hospice through selling their Choc-a-Treats.
The team, consisting of Managing Director Layla Webb, Financial Director Elizabeth Craig, Sales Directors Lauren Galligan and Hannah Napier, Marketing Director Holly Birkett and Production Director Emma Ferris, began their journey on October 5th when their first pitch to the Dragons at Manchester Airport secured them funding of £100.
From then on, Choc-a-Treats grew and developed and the girls were able to produce a range of gifts, including mason jars filled with all the ingredients to make hot chocolate and refills in cone bags. Both of the products just required hot water, as per their slogan 'Just add H20 HO HO!'. The girls were also able to sell ready-made hot drinks.
The students had the opportunity to sell their product at Manchester Airport in November and to parents after school. They also sold at the School's PFA Christmas Fair and at Grantham's Christmas Food and Wine Festival in December.
After a busy few months of working incredibly hard, the girls returned to the final on December 11th, having raised £1303.77 in profit for their chosen charity East Cheshire Hospice.
Mrs Balfour, Head of Economics and Business said: "It was an incredible opportunity for the girls to be a part of the Dragon's Den Challenge. They have learned invaluable skills such as team work, individual responsibilities and communication. They have gained a great insight into business and were able to raise money for a great charity. We are all very proud of them!"