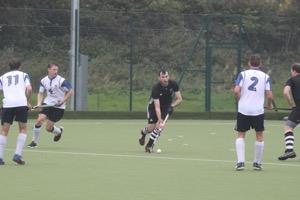 Three points apiece for the Ladies and Mens 1st XIs in their respective North Premier Leagues. The Mens 2s also earned a win while the Ladies 2s drew...
AEHC Mens 1st XI played host to Sheffield Bankers with both teams looking for a win to kick start their seasons. Two disappointing results had left Edge with one point from their last two games, so taking the full three points this weekend were a necessity to stay in touch with the early pace setters.
Edge started the well but lacked a little sharpness which allowed Bankers to break the deadlock with a breakaway goal. Despite Edge keeping good possession, Bankers managed to score again before Edge drew one back, courtesy of a powerful low flick into the bottom left hand corner from Rob Tremlow. This was followed by an equally merciless strike from Si Parr to level the score at 2-2 going into the half time break.
The second half began as the first had ended, with Edge playing flowing hockey and creating chances, one of which was converted by Ben Whitehead when he pounced on a loose ball in the D and rifled the ball into the top right had corner of the net. This proved to be the winning goal despite a renewed onslaught from the opposition thwarted by a resolute defensive effort from Raj Kay, Chris Cook, Scott Mattingly and Sean Hadfield in goal. The men take on local rivals Timperley next weekend.
The Mens 2s beat Crewe Vagrants 1s 7-6 in an entertaining, end-to-end, goal fest in North Hockey League division 2. The star of game was Joe Coxon with a hatrick. Joe Gregory and Ollie Jones scored powerfully struck goals with Jack Smith and Chris Hardy also adding to the score line from short corners.
The Ladies 1s won a scrappy away game against Neston 1s 3-1 to secure another valuable three points in North Hockey League Premier Division. Numerous short corners went begging at both ends but fantastic defensive work and great work in goal by Man of the Match Alanis Sky Parkinson prevented Neston converting any of theirs.
Sarah Hopkin converted one for Edge after 20 minutes to open the scoring. This was followed with a goal from Dominique Debeijer just before half time on her debut with the club. Amanda Bennison made it three for Edge early in the second half but Neston pulled one back two minutes later. Neston continued to fight until the final whistle, even resorting to substituting their goal keeper for a kicking back, but failed to make any credible impression on Edge's defence.
The Ladies 2s had a distinct game of two halves away to Deeside in Cheshire League division 1. Missing five players from the previous week's squad, they started tentatively, allowing Deeside to convert a short corner from their first attack after 15 minutes. Sadly Edge then lost their shape and intensity allowing Deeside to score again.
The second half saw Edge transformed. They passed with accuracy, their attacks had purpose, and they played with much greater intensity. Two converted short corners from Claire Davidson drew the scores level and then Edge camped in the Deeside half for almost the entire period. Unfortunately, the winner wouldn't come though – final score 2-2.
Match report by Sue Polley.
Tags: