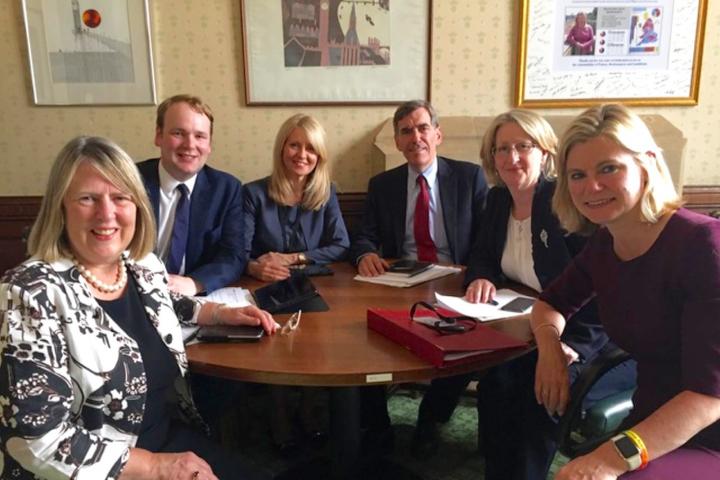 Cheshire East secondary schools will benefit from additional funding over the next two years, with per-pupil spending set to increase to at least £4,800 in 2019-20, in an announcement welcomed by Tatton MP Esther McVey and Macclesfield's MP, David Rutley.
The confirmation of an extra £1.3 billion for the national schools budget by 2019-20 was given to Parliament in an oral statement by the Rt Hon Justine Greening MP, the Secretary of State for Education, on Monday 17th July. The plans will mean an increase in the basic minimum amount that every secondary school pupil will receive, as well as protected funding for pupils with high needs. This will enable every local authority to give schools a cash increase through the new national funding formula, which is due to be introduced from 2018-19.
Ahead of the announcement being made Tatton MP Esther McVey met the Secretary of State for Education Justine Greening MP, along with other local Cheshire MP's, Fiona Bruce - Congleton, William Wragg - Hazel Grove, David Rutley - Macclesfield and Mary Robinson - Cheadle.
David Rutley organised the meeting with the Secretary of State to discuss the historic under-funding of schools in the area, and school budget issues more widely.
Ms McVey told wilmslow.co.uk "Earlier this month when I asked Ministers about the Fair Funding Formula in Parliament I was given assurances no school would miss out and there would be no cuts to the budget, then on 17th July after further meetings with Cheshire MPs the Government went further announcing an extra £1.3billion per year for funding for schools paid for through savings from existing budgets such as free schools and promising a higher minimum per pupil funding."
She added "I welcome the announcement which ends months of uncertainty for education bosses, parents and governors over a proposed change to school funding formula which would have taken from some areas and given to others."
Speaking after the announcement, David Rutley said, "I am very pleased to see this significant increase in per-pupil funding, which will be a real boost to secondary schools in Macclesfield and Poynton. Along with other local MPs, I have been actively campaigning for fairer funding for our area, and this is a positive step forward in addressing the concerns of local schools and parents. I will continue to work with our schools to seek further details on the final funding allocation, and also to keep local parents updated on this vital issue in the months ahead."
Details of per-pupil funding for primary schools will be published in the autumn.