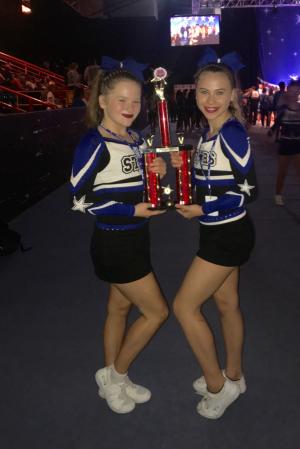 Two brave 14-year-olds who were attending the Ariana Grande concert at Manchester Arena when the bomb went off returned to an arena just five days later to compete in a cheerleading competition.
Best friends Modelle Lee Hughes Jervis and Leah Kelly, who both go to Alderley Edge School for Girls, were attending their first concert alone on Monday, 22nd May, when they were caught up in the attack.
Emma Jervis said "When the bomb went off everyone was screaming with panic and so the girls grabbed eachother's hands and ran for their lives. They managed to get out thank goodness and got to a safe place until Leah's parents got to them. The girls were petrified as you can imagine and what should have been one of the best nights of their lives turned out to be the worst one they could have ever imagined."
Despite this horrific experience, the girls who attend rising stars cheerleading club in Cheadle, went ahead with plans to compete on Saturday, 27th May, in the Metro Radio Arena, Newcastle.
Emma added "The girls have have been so emotionally drained all week yet they still managed to attend school as neither of them wanted to miss out on exam week. Alderley Edge School for Girls have been fantastic! They have helped the girls through a very tough week and they also had a councillor come into school to speak with the girls and anyone else who had been affected by the Manchester terror attack.
"The girls have been extremely scared about the competition due to it being in another arena and only five days after their experience at Manchester Arena but they decided they wanted to do something for all the victims of the terror attack and so they decided to face their fears and go ahead with the competition."
Not only did Modelle and Leah make their families very proud by facing their fears, but they went on to win their BCA Cheer & Dance competition.
Emma said "They broke down emotionally after their performance and shouted we did it for Manchester! These young superstars are a huge inspiration and we are just bursting with pride."