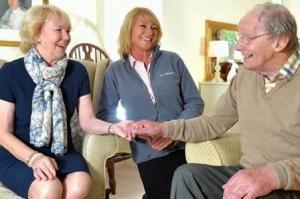 Promotional Feature
One of the UK's highest rated elderly home care providers is set to open in Wilmslow creating 50 jobs.
Carefound Home Care Wilmslow will support families with live-in care throughout Cheshire and hourly care in Wilmslow, Altrincham, Knutsford, Macclesfield and surrounding areas.
The company also provides live-in care and hourly care to families in Yorkshire from its existing office in Harrogate and has won local and national awards its highly personalised services.
This includes having been rated "Outstanding" by the national regulator, the Care Quality Commission (CQC), putting it amongst the top 1% in the UK.
The new Carefound Home Care office will offer specialised care from vetted, trained, professional home carers who will be managed and supported locally.
This includes anything from basic domestic support, companionship, personal care, medication help, through to specialist care for complex conditions such as dementia or Parkinson's.
Katie Brennan, Home Care Manager of Carefound Home Care in Cheshire, said:"We are delighted to be bringing our expertise to Cheshire and are recruiting a team of outstanding carers who are caring, compassionate and can demonstrate a clear motivation to improve the lives of our elderly clients."
"All of our staff receive extensive training at our local office in Wilmslow and we seek to attract the best people by offering a great working environment, unrivalled local 24/7 support, excellent pay, market-leading specialist training and full ongoing professional development."
"I have been working in the home care industry for over 8 years and feel privileged to be establishing the Carefound Home Care service in Cheshire. We look forward to developing our staff and providing local elderly people with the outstanding, personalised care services Carefound Home Care is so well known for."
Carefound Home Care prides itself on the expert support it offers to elderly people living with specialist health conditions such as dementia. The company has collaborated with the Contented Dementia Trust since 2012 to ensure that all staff are trained in their specialist approach to caring for people with dementia - the SPECAL method.
The SPECAL method works positively with dementia, rather than trying to ignore or defeat it, and is based around three Golden Rules: don't ask questions; listen to the expert; and don't contradict. It has consistently been shown to:
• increase the person's confidence and thereby slow the rate of deterioration;
• reduce the need for medication, and
• enable the person to remain in their own home for significantly longer.
The company is also unique in ensuring that its live-in care and hourly care services are fully managed and supported locally rather than from a national office.
Oliver Stirk, Director of Carefound Home Care, said:"We very much look forward to supporting families in Cheshire from our local Wilmslow office."
"We have developed a fantastic reputation for the quality of our home care services and this is largely down to the calibre of people we employ. However, we also place a huge emphasis on providing local, 24/7 support to our carers and the families we help."
"This enables our care management team to offer regular contact with our clients, close support and supervision for our staff, regular team meetings, weekly support visits to our live-in carers and a local on-call service."
Tags: