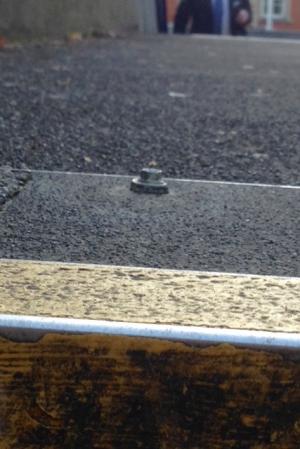 I travel by train from Heaton Chapel to Alderley Edge every day for work and I am sad about the state of the station, particularly when compared to my 'home' station of Heaton Chapel.
A couple of years ago I reported that some of the covering on the steps on the overhead footbridge was loose, and the current 'patchwork quilt' repair was the response. I have also reported several times the broken lamp that lights up the footpath and the car park and which is currently resting at a jaunty angle! I have no doubt that the clocks will change in October and once again the path will be plunged into darkness.
However I am on the case with that one, but I have also reported a more recent fault on the steps where I noticed that the top step on the top flight going down towards the northbound platform (trains to Manchester) was lifting up causing a trip hazard. I emailed to ask for it to be repaired, which is was, promptly (good!), but the repair has used a nut and bolt which protrudes from the step (bad!) and has had the effect of replacing one trip hazard with another! (photo attached).
I have of course reported it and hope that it will attended to promptly, but would like to remind people to take care on the steps and to use the handrail. The consequences of someone catching their foot and falling down the entire flight of steps could be serious.