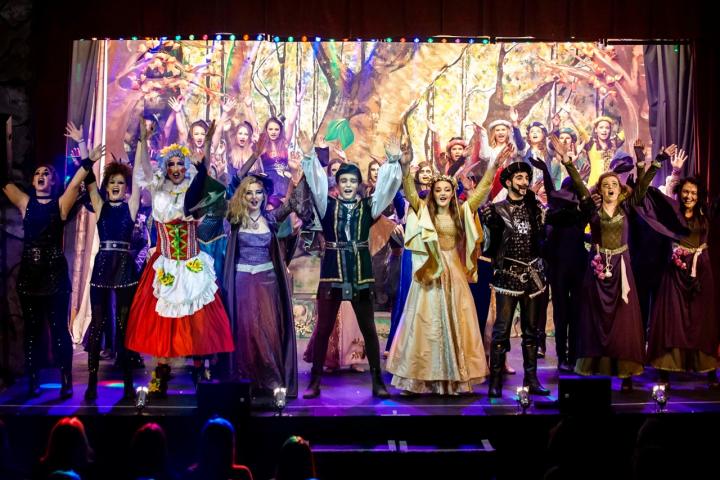 Cheshire Youth Pantomime Society (CHYPS) are in the final stages of rehearsal for their next spectacular pantomime – Peter Pan.
Since 2008 CHYPS has performed a traditional pantomime every January at Woodford Community Centre.
CHYPS Chairman Ian Hunt "The cast of around 40 is made up entirely of 11 to 19 year-olds from local high schools. Every show has been packed with the energy and excitement that is generated by a group of highly talented and committed young people."
Over the past few years CHYPS has won many awards from ACT, the Association of Community Theatre, who review performances of amateur theatre across the north west. Awards received include for Best Pantomime, Costumes, Special Effects and for individual performers. CHYPS last panto, Robin Hood, won the award for Most Creative Dancing and was nominated for Most Original Production, Best Comic Portrayal and had two nominations for Best Actor, both of whom will be performing again in Peter Pan, as Captain Hook and as Peter Pan himself.
Ian Hunt added "This year we are particularly excited and proud to welcome Jane Danson as CHYPS Ambassador. Jane is the award winning star of Coronation Street where she plays Leanne Battersby."
Jane said "Last year I had the pleasure of watching the CHYPS production of Robin Hood and seeing the commitment and enthusiasm of the young cast reminded me of the happy days over 25 years ago when I started my acting career with the Oldham Theatre Workshop. I am thrilled to be invited back this year as CHYPS Ambassador and I can't wait to see this year's production."
CHYPS Peter Pan is at Woodford Community Centre from January 5th to 9th. A few tickets are still available from the CHYPS website or by calling the CHYPS Ticket Line 07910 187583.
Photo. "The Finale of the 2015 panto Robin Hood.
Tags: