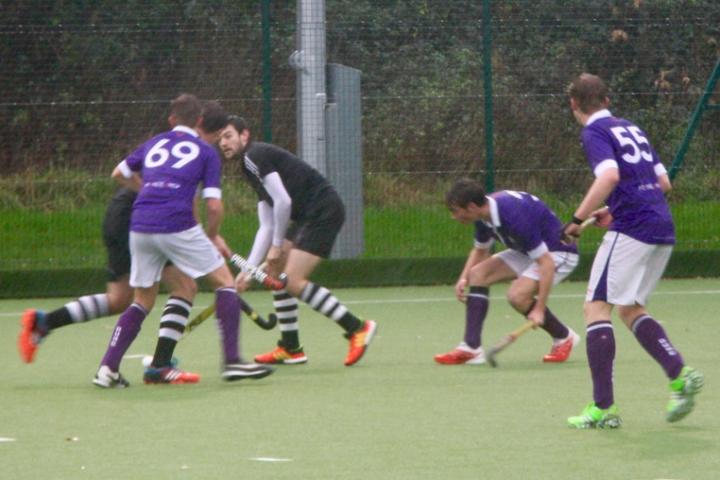 Alderley Edge Men's 1st team produced a very solid team performance to beat Durham University 3-1 at a wet and windy Edge Hockey Centre.
Playing in driving rain and a strong wind in the first half, the speed and close control of Ben Gregory and Si Parr proved troublesome for the visiting students. Ben Gregory cut in to the D from the left wing to unleash a dramatic reverse stick rocket shot into the top corner. The lead did not last long as Durham equalised from the breakdown of a penalty corner.
Simon Pickering starting in the Edge goal this week and was called on to save another penalty corner before another Gregory run and shot presented Wood with a neat deflection goal. Ben Gregory added a third in the second half to seal victory.
The win sees Edge just 5 points behind the league leaders with all to play for in the second half of the season.
Edge Women's 1st team slipped up this week losing their 100 % winning game record, 1-0 at home to Wilmslow, a team they have beaten twice this season in the league and cup. As the heavens poured heavy rain, a defensive lapse presented Wilmslow with an early goal. Edge then laid siege to the Wilmslow goal and only the heroics of keeper Catriona Lang prevented Alderley from scoring. Five clear goal scoring opportunities were missed or saved as Lily Wolstenholme and Jenni Park ran from deep and linked well to carve out chance after chance.
In the second half Wilmslow played with a gritty determination to keep Edge at bay, filling the midfield and denying Edge space. More chances followed but Lang was inspired in the Wilmslow goal and made a brilliant stick save and clear from a late penalty corner. Edge remain top of the league with a superior goal difference and have a game in hand against bottom side Moss Park next week.
Alderley Edge Men's 2s were unbeaten in 11 games ahead of a tough away match against in form Liverpool University, who had comfortably won 8 of their last 9 games. Liverpool dominated most of the first half displaying some slick passing and dynamic dribbling skills. Alderley were indebted to clearances from Chris Cook and keeper James Riley to only be 1-0 down at half time.
The second half was a much different game with Alderley becoming more dominant and scoring 3 goals to take a 3-1 lead. For the second week running Matt Hardy was fouled in the process of shooting with Nick Sims calmly converting from the result penalty flick. Sims then set up 'Man of the Match' Todd Leddy to give Alderley a 2-1 lead and then minutes later persistent play from young Jack Smith put Alderley 3-1 up.
Unfortunately Alderley couldn't hold onto the lead and Liverpool scored twice with the game heading for a 3-3 draw. However, with one final attack, a foul on Matt Hardy gave Alderley a penalty corner after the final whistle. Sims executed a high drag flick into the top corner, the goal was awarded and Alderley thought they had a crucial win. However much to the surprise of both teams and supporters the goal was then disallowed because the second umpire thought the ball was initially off target before deflecting inside the post off a defenders face mask, thus citing dangerous play. 3-3 the final score.
Edge Women's 2s had a comfortable 3-0 win vs Sale 2s. A good battle in first half rain with strong defence and goals from Julia Tennant ( a great individual goal, full of determination) and Sarah Stretton ( a nice team goal) putting Alderley 2-0 up at half time. Glorious transfers and quick passing game, together with superior fitness, meant Edge dominated the second half but some good last ditch defending and wayward finishing kept it to 2-0 until Judith Offer buried a strike from a short corner. Could (and probably should ) have scored 6 but a good win in atrocious conditions.
Alderley Edge Women's 3rd team entertained Warrington Women's 1s who are a side of mature, experienced players in a top of the table clash at the Edge in very wet conditions. Despite all the rain the pitch was playable whilst other local clubs had to cancel matches because of flooded pitches.
The first half ended nil all although Edge threatened to score with many good link ups between the forwards. The second half started with Edge pressing the opposition hard. A quick break away from the opposition put the visitors one nil up after 10 minutes. Despite this setback Alderley kept up the pressure and earned a penalty corner successfully converted by Katie Haszeldine to level the score at 1-1. Throughout the second half Edge pushed forward to keep Warrington on their toes. A good match all round with quality passing and a real positive attitude from all the players. 'Player of the Match' was awarded to Emily Fell.
Alderley Edge Mens 3rds continued their super winning run beating Mossley Hill 2-0 to stay top of the league. Veteran Ed Johnson and young Hashim Dadah the scorers.
On Sunday the Edge under 16 boys played in the North indoor championships but missed out on progressing to the Nationals gaining a useful exposure to the indoor game that will develop their skills and tactics for next season.
Match report by Kelvin Briggs.
Tags: