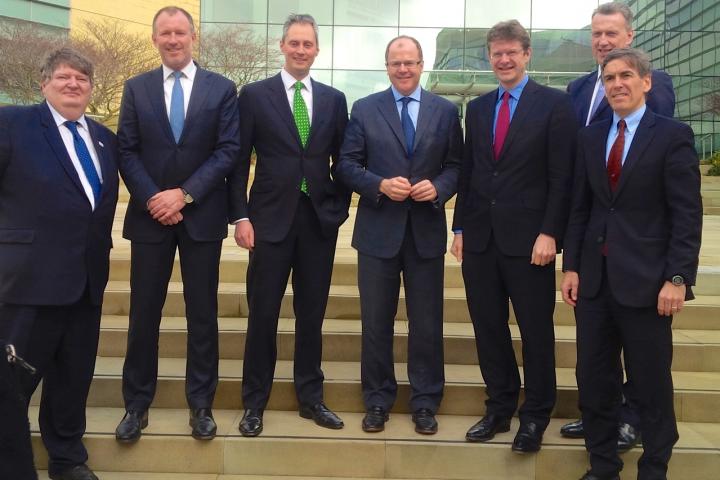 Greg Clark, science and universities minister and George Freeman, life sciences minister, visited the BioHub at Alderley Park on Thursday, 26th February.
They were accompanied by Macclesfield MP David Rutley, who has been closely involved in plans to convert the former AstraZeneca research base at Alderley Park into a thriving business park for life science companies.
Manchester Science Partnerships has acquired the 400 acre site and a draft development framework, drawn up by Cheshire East Council, is now out to public consultation.
Dr Chris Doherty, Site Director for MSP's Alderley Park said: "The visit proved to be extremely valuable for Ministers to better understand the offer and our vision for Alderley Park.
"We hosted a roundtable session with Greg Clark and George Freeman to discuss our plans to repurpose and expand the site into a thriving open innovation community for life science businesses, as well as provide key learning for other sites."
Mr Freeman also toured AstraZeneca's Hurdsfield factory in Macclesfield. Worldwide demand for the prostate cancer drug Zoladex means that the factory accounts for more than one per cent of total UK exports by value.
Councillor Michael Jones, leader of Cheshire East Council said: "It is exciting to see how Alderley Park is developing and it is great to see continued investment by AstraZeneca in the Hurdsfield site.
"We hope this visit will give ministers, the local MP and the Council some insights into how they can support AstraZeneca's commitment to Cheshire East and in particular the plans they are developing to create a European centre of excellence for packaging of pharmaceuticals at Hurdsfield.
"It should not be forgotten that drugs packaging originally came to Macclesfield due to the dexterity of silk workers, who were used to dealing with small, precise instruments.
"We are absolutely committed to protecting and growing jobs in our science corridor, so it is pleasing to see AstraZeneca's long-term commitment to Hurdsfield."
Tags: