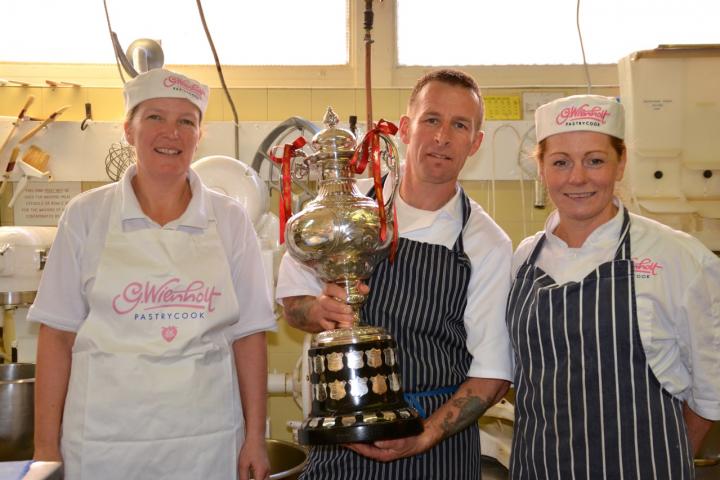 G Wienholt is celebrating after winning a biennial national competition which was voted for by their peers.
The traditional bakery, which was established in 1950, has picked up the British Confectioners Association Cup in recognition of its high quality products. Sixty of the countries top bakeries take part in the competition which has been held since 1908.
The British Confectioners Association (BCA) is a group of sixty bakers who have been nominated and elected to join. They get together five times a year with each meeting hosted by a member at their business.
Heather Wienholt explained "Each time we meet we are asked to bring a specific product which is judged at the meeting. Over the last two years there was six heats, we won with our cherry slab, mince pie, Christmas pork pie and pistachio macaron. Which gave us enough points to be the overall winners."
Heather Wienholt, Martin Wienholt and Gary Morrison were awarded the very old, ornate and rather large cup at the recent BCA AGM and it will now take pride of place in the shop window.
To help celebrate their win, Wienholts are planning to sell their winning products half price, one each week for the duration of November.
Heather added "Winning this cup is a huge honour as it means G Wienholt products were judged to be the best products out of 60 of the best bakeries in the UK.
"We have chosen not to grow our business as we have always cared so much about the quality of our products, it is what motivates us and to say we care passionately about cakes and pies is a bit corny, but it's true. We jump through hoops every day to get it right and winning the cup means that our efforts have been rewarded by the baking industry."
Tags: