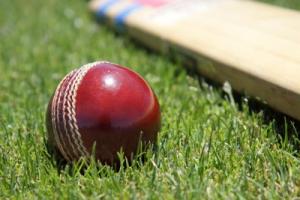 On Saturday Alderley Edge 1st XI visited the home of League champions Chester Boughton Hall in what was always likely to prove a very demanding test.
Against a sustained spell of hostile fast bowling from Boughton Hall's Australian paceman Josh Henderson, who took 6-89, Alderley's innings was soon in considerable trouble, and at 99-6 an early finish looked on the cards. However, a valiant rearguard action was launched by the lower order, especially Chris Cook who smashed four 6s in his innings of 71 at number 10. With good contributions also from Oliver Wildig, Tom Foreman, Simon O'Brien and debutant James Scott, a very decent total of 247-9 was achieved.
Boughton Hall's innings got off to a flyer, and with highly talented players such as Cheshire's Warren Goodwin and Lancashire all-rounder Jordan Clark, the total was always likely to be within their reach, given that Alderley were unable to take the wickets which would have put greater pressure on the home side's batsmen, and the target was passed for the loss of just 3 wickets with 2 overs to spare – a defeat, but a respectable performance.
A 2nd XI weakened through a horrendous list of unavailable players proved no match for Boughton Hall, the scores of 239-8 declared against 81 all out reflecting the gulf between the two teams on the day.
Sunday, however, brought much better news as the 3rd XI, in defeating Cheadle Hulme by 9 wickets, secured their league championship with two matches still to play. Fittingly, in a team that has combined experience and youth under the expert leadership of Chris Smith, it was players from each end of the age spectrum who were together when the winning run was hit.
Under-14 batsman Henry Stevinson and returning legend Jon Bean made 29 not out and 31 not out respectively as Cheadle Hulme's total of 96-9, in which innings Ollie Jones and Katie Haszeldine took 3 wickets each, was overtaken in just 18 overs.
Match report by Rick Davis.