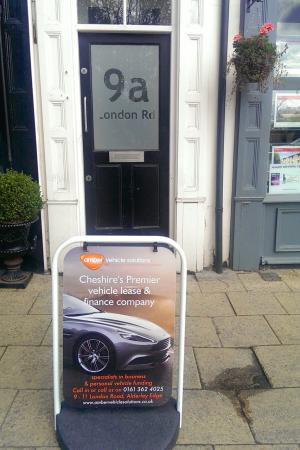 Promotional Feature
Co Directors Jason Fennessey and Scott Ryden have relocated their business Amber Vehicle Solutions to 9A London Road, Alderley Edge.
Specialising in the sourcing and financing of absolutely any make or model of car or light commercial vehicle Amber's very personal service will help guide you through the vehicle purchasing minefield, source your vehicle, provide a market leading lease or finance package and deliver the vehicle to your door!
Customer's are invited to have a browse around the company's website www.ambervehiclesolutions.co.uk and if anything catches your eye simply send an enquiry or call for a chat and they'll do the rest, couldn't be easier! And if you don't find what you're looking for amongst the thousands of online offers then just pick up the phone or call in, if the car exists they can help!
Amber Co Director and Wilmslow resident Jason Fennessey said "We couldn't be happier to have relocated to Alderley Edge and to get fully involved within the local community. We have been trading eight and a half years now and this move seemed to make sense for us in so many ways.
"We're really looking forward to providing the local community with our bespoke and very personal service. We lease and finance all types of vehicle and have traditionally been extremely competitive in the lease of vehicles in the mid to upper sector which we feel is the perfect fit for the area. We also offer lease alternatives such as Hire Purchase & Lease purchase also with balloon payments available if required which we find to be very popular with those lucky enough to be driving one of the prestige or performance brands."
Jason continues "Although we have traditionally conducted the vast majority of our business nationwide, online and over the telephone we're now really looking forward to getting to sit in front of and to meet our clients so please do feel free to pop in for a chat anytime, our doorway is on the pavement just next to Bridgfords!"
Amber Vehicle Solutions, 9A London Road, Alderley Edge, SK9 7JT.
Tel: 0161 362 4025.
Email : [email protected]
www.ambervehiclesolutions.co.uk
Tags: