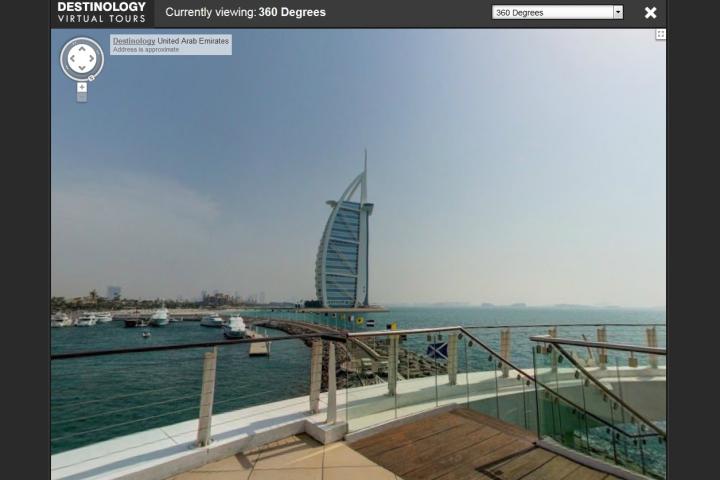 Promotional Feature
Destinology, the experts in luxury travel, has launched brand new virtual tours of the inside some of its most popular hotels. Using the same technology as Google Street View, Destinology has shot the interior of over 40 hotels worldwide, with tours of the first three properties online now at Destinology.co.uk.
Filmed during a two-month shoot on location, the new tours offer the option for UK holidaymakers to navigate their way around hotels they are considering for their next holiday and explore the resort before they even arrive. Customers can choose which areas of each hotel to explore, with choices allowing viewers to compare varying room types as well as walk through public areas and view key facilities such as pools, spas and restaurants.
The first tours are now live on Google Maps, complete with Destinology branding, as well as embedded on Destinology's site. Hotels currently available to view include the Jumeirah Beach Hotel, Atlantis, The Palm and One & Only The Palm. Over 40 hotels will be added over the coming weeks, in locations including Dubai, Mauritius, the Maldives and Abu Dhabi, with Greece and the Caribbean confirmed on the shoot list for September.
Dominic Speakman, CEO of Destinology comments, "Our customers have always fed back that the in-depth knowledge of hotels given on our website is a key factor towards them booking with us, appreciating the privacy to explore options themselves, before calling a specialist advisor to talk over options and book. Our brand new virtual tours aim to take this one step further, by enabling customers to walk through chosen resorts and see them for themselves'.
Dom continues, "We believe we're the first company to offer interior virtual tours using Google technology, which is a great first for the UK travel industry. The amazing quality of the tours complements brilliantly the stylish look and feel of our website and offers a great new insight for customers. Following over 100,000 views of our photospheres, we experimented last year with the filming of our new store in Wilmslow, and received such good feedback that customers had visited us after seeing the new style of travel agency on our website, that we met up with Google to discuss filming hotel interiors in a similar way. We've had a photographer shooting for two months across 40 hotels in six countries, with each hotel taking around 20 hours to capture".
To view the new tours visit www.destinology.co.uk.
Tags: