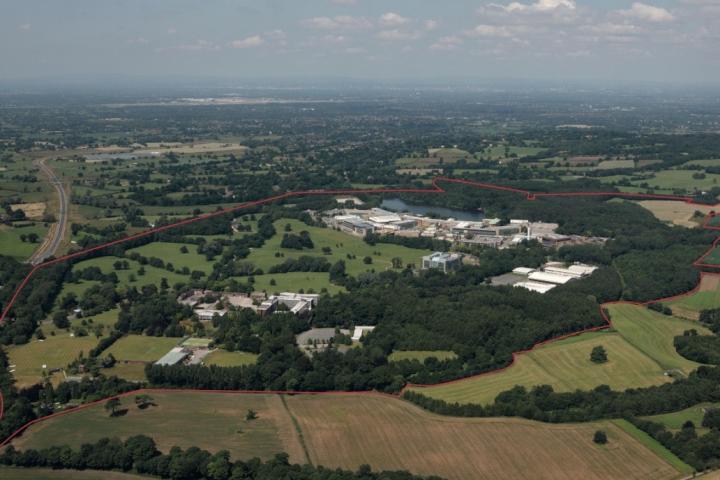 Plans for re-development of Alderley Park to create "a world class hub for the Life Sciences" are expected to be approved next week.
The site is located in the North Cheshire Green Belt and a report prepared for the Strategic Planning Board meeting on Wednesday, 24th February, states that the proposed development will have some impact on openness and as such is considered to be inappropriate development in the green belt.
However, it states that very special circumstances have been demonstrated which outweigh this harm, with the economic case for the life science business being particularly important.
The proposal includes the demolition of a number of buildings and the development of a mixed-use scheme which includes 38,000 sqm of laboratory, offices and light manufacturing floorspace, which in time could secure as many as 7,000 jobs.
In addition the plans include up to 275 new homes (up to 60 of which may be retirement homes) which will help fund the necessary investment required for the science campus. Alongside the housing a new village hub will offer complementary uses such as a shop, cafe, restaurant, pub, creche and a hotel with up to 100 bedrooms.
Sport and recreation facilities form part of the proposals, including an indoor sports centre of up to a 2,000 sqm, which will be open to the public for the first time and the local community will be able to use the existing footpaths, woodland and heritage parkland.
Additionally, multi-storey car parking will provide up to 534 spaces, along with a waste transfer station, landscaping and other associated infrastructure.
The report for the Strategic Planning Board states "The proposals will provide high-quality and flexible purpose-built facilities in the short-term for both new and existing companies at the BioHub, thus ensuring that that talent and skills associated with AstraZeneca can be re- deployed on site before becoming dissipated.
"A range of uses is proposed on the site, and whilst the residential use is proposed to "pump prime" the life science development, the other uses are very much complimentary to the site as a whole.
"All the proposed development, with the exception of some re-located sports pitches, are within the defined area of Previously Developed Land."
It continues "The overall scheme is considered to constitute sustainable development with a firm emphasis on the economic benefits of the proposal."
Therefore the application from Alderley Park Limited - which is made up of property developer Bruntwood (who have a 51% controlling share in Alderley Park Limited), Manchester Science Partnerships (39%) and Cheshire East Council (10%) - is recommended for approval subject to referral to the Secretary of State, conditions and a S106 Agreement.
The plans can be viewed on the Cheshire East Council website by searching for planning reference 15/5401M.
A separate planning application for the refurbishment and partial redevelopment of a vacant group of buildings at Alderley Park, to create new laboratories, offices and manufacturing facilities was approved last month.