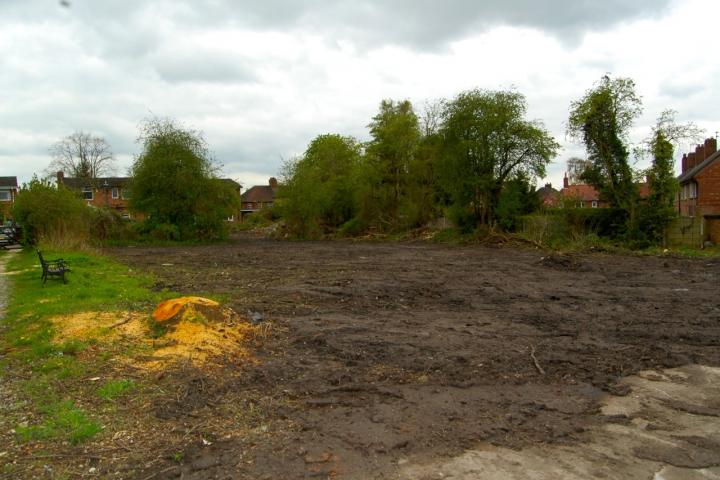 On Tuesday, 24th April, we reported that a plot of land off Heyes Lane, which was left to the RSPCA by a wild life enthusiast, has been bulldozed.
David Brown, of 83 Heyes Lane, died in 2007 leaving his house and land to the charity. He wanted the land to be left for wildlife and specifically requested that it was not sold for building but last week workmen arrived and cleared the site.
A spokesperson from the RSPCA said "We are incredibly grateful to Mr Brown for his generous bequest. The funds raised from the sale of his house were put towards the upkeep of cats as he requested.
"Mr Brown wished us in the legacy not to sell the land for building though this wasn't a binding condition of the will. However it is extremely regrettable that we were then not able to use the land in accordance with Mr Brown's wishes.
"We considered other options including using it for local RSPCA branches. At the time of Mr Brown's death in 2007, the plot (0.40 acres) was not viable for use by the RSPCA, especially as there was a moratorium on any planning consents except for housing association schemes or a nursing home.
"This moratorium was due to be in place until 2012, but was then lifted in 2008. At this point it became apparent that the value of land could decrease which would mean less money being available for animals under RSPCA care. So the then Chief Executive decided to proceed with the marketing of the property and the land.
"In 2009 we asked HSBC (the executors) to ask the estate agent who was selling the property and land to notify all adjoining owners of the marketing once it commenced."
The estate agent set a date of July 2010 for bids to be made, in total fifteen bids were received. HSBC accepted the highest offer and the sale of the land was completed in August 2011, which we believe was to Deanbank Investments Ltd, part of the Emerson Group.
The spokesperson added "The RSPCA has used the money from the sale of the land for its animals at the nearest wildlife rescue centre, Stapeley Grange as well as some other RSPCA centres."