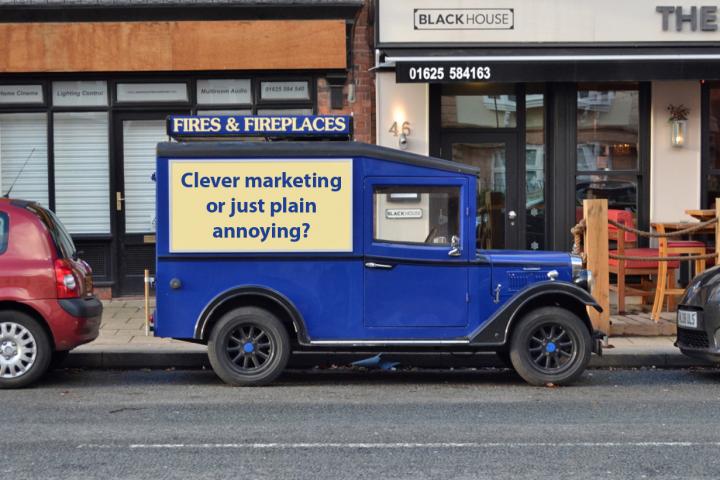 As I am sure many of you will have noticed, an old fashioned van advertising fire servicing has been left parked on London Road for over three weeks.
Whilst there doesn't appear to be any parking restrictions on this stretch of road, outside Grill on the Edge and the Bar and Grill, many of our readers have expressed their disapproval of this blatant form of advertising from a Manchester based business, which is taking up a parking space in the centre of the village.
Mike Barry commented "Knowing that the village is really lacking in parking facilities both for shoppers but, as importantly, those who work in the village often on minimum wage, why is it right that, for some weeks, two vehicles outside The Bar & Grill and Grill on the Edge can blatantly advertise?
"Yes, one traditional 'car' looks very Yuletide and the other, contrastingly, 'White Van Man' but if a local shop did this, and especially a Tesco, there would be uproar. And these are not local businesses. Why are these spaces now 'gone' to those who contribute far more to the village?"
Mike Norbury added "I had noticed that blue van advertising fireplaces, or something of the like, and wondered how they were getting away with it. Can we tow it off?"
I first noticed the van just before the Christmas Fair & Market, around December 10th, so it has been there at least 3 weeks now. I wonder how long it will remain?
Given it is not parked illegally I have contacted Cheshire East Council to enquire whether any action will be taken to remove it or whether it will be left indefinitely. I will let you know when I hear back.
I wonder if the exercise has proved a success for the owner and whether they have generated any business as a result.
Tags: