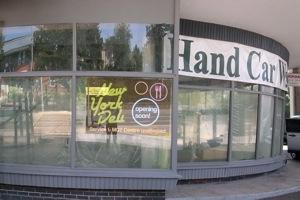 Work is well under way at Highams to create their new American style deli which will be opening shortly.
Stephen Higham told me "I'm a little frustrated that the construction work seems to be going on forever, but nevertheless I am very excited about the new venture. We will be running the deli alongside our existing car repairs, MOT and car wash with the iconic circular showroom being the centre point of transformation."
Stephen explained earlier in the year that they are diversifying their business in order to survive during these difficult times and make better use of the large retail site.
Speaking about the products they will offer, Stephen told me "There will be a wide range of food and beverages on offer, serving such delicacies as hot salt beef sandwiches as well as fresh and healthy salads. We will also have a frozen yoghurt bar with a really wacky range of toppings."
Planning permission for the changes was granted in March with the hours of operation limited to 8.30am to 7pm hours on Monday to Saturday and 10am to 4pm on Sundays or Public Holidays.
Tags: