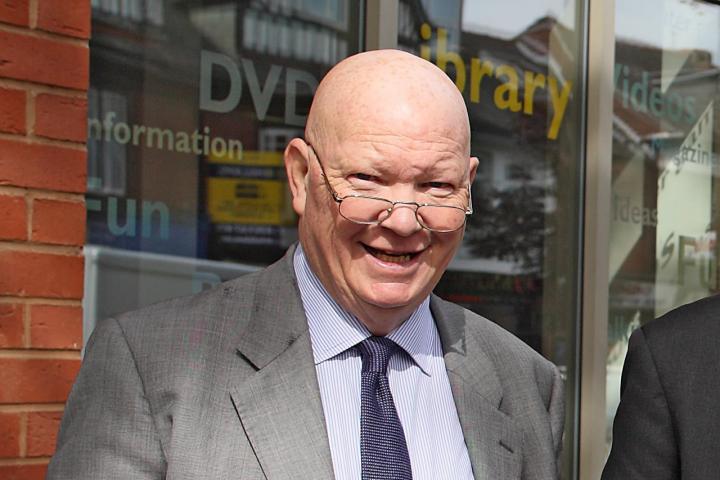 Councillor Frank Keegan has been cleared of all the allegations made against him by the Chief Executive of Cheshire East Council.
Erika Wenzel's complaint, which was referred to Standards for England, alleged that "Councillor Keegan had acted improperly in relation to a housing proposal from which he stood to gain personally."
The complainant alleged that Councillor Keegan had:
• sought to compromise the impartiality of council officers
• failed to register a personal interest
• disclosed confidential information
• used resources not in accordance with the authority's reasonable requirements
• used or attempted to use his position improperly to secure an advantage
• brought his office or authority into disrepute.
Having spent over 3 months investigating this complaint the ethical standards officer found that Councillor Keegan did not breach the Code of Conduct and dismissed the above allegations.
These six complaints were in relation to a project Councillor Keegan had been working on for a several years in his role as Resources Portfolio Holder.
Councillor Keegan had developed an idea which involved allowing developers to build houses on council owned land. The buyers would only need to pay initially 50% of the value of the houses, so enabling people to buy houses they otherwise could not afford.
The council would gain a proportion of the equity of the houses which Councillor Keegan projected would bring significant financial benefit to the council, making them £1.6 billion over a 10-12 year period.
The council claimed that in October 2010 Councillor Keegan had told the leader of the council, Councillor Fitzgerald, that he was hoping for personal gain from his housing proposal. In an email to the deputy leader he was quoted as saying he was "hopeful of a share in the company" and "wanted a reward for my efforts."
Councillor Keegan has always denied that he stood to gain from the housing proposal and whilst the ethical standards officer concluded that he has used those words she considered that Councillor Keegan had always been open about his proposals, which were at a formative stage. She concluded "there was insufficient evidence to show that Councillor Keegan had attempted improperly to gain an advantage from the housing idea."
It was also alleged that he had compromised the impartiality of council officers during a meeting at the offices of an unnamed large property developer (believed to be Jones Homes) where his housing idea was mentioned.
He was also accused of disclosing confidential information by forwarding a plan of an area of land to the same property developer and misusing officers time to promote his housing idea by asking for an update of the plan and discussing his idea with a senior officer.
Councillor Keegan was removed from Cabinet in November and Councillor Wesley Fitzgerald took over responsibility for Finance and Resources. Two weeks later he was referred to the Standards Committee.
A spokesperson from Cheshire East said at the time: "This issue is not related to his removal from Cabinet. Cllr Keegan was removed from Cabinet as a result of his conduct and behaviour when relating to Senior Officers and Council members when discussing issues relating to the day-to-day operation of this Council."
Councillor Keegan told me "This all blew up at the end of October because they wanted to buy the Royal Mail site at Crewe and I said we couldn't afford it. Cllr Fitzgerald had suspended me but, because the budget was coming up, he needed to justify this to the Conservative Party so he introduced the red herring of the affordable housing lark.
"If they are not connected then why suddenly in that week did it matter when the only thing that had happened that week was the Royal Mail site.
"I had been working on this affordable housing idea for years and if the complaint was genuine it would have happened any time from June when I made a presentation to the cabinet - telling them where I was up to and that the council could make £1.6 billion out of this by building 10,000 homes across Cheshire East."
Speaking about this experience, Councillor Keegan added "I am sorry I was out of the council at an important time and missed the opportunity to influence the budget.
"It was also a bit stressful to have these allegations that I was in it for personal gain. We are talking about a site in Handforth which was really a demonstration. It is a green belt site which doesn't even have permission for housing. The control of the development was entirely in the hands of Cheshire East.
"No one developer could have done all the work, I was just asking their advice, and if the council had proceeded then we would have gone through all the proper procurement procedures."
A Cheshire East Council spokesperson said: "A potential breach of the Code of Conduct for Elected Members came to light in late October 2010, in relation to Cllr F Keegan. In accordance with agreed procedures, the Chief Executive referred the matter to the Monitoring Officer, who arranged for the report to be considered by the authority's Standards Committee. The committee decided that the issue should be passed to Standards for England for a formal investigation.
"The report from Standards for England finds that there has been no failure to comply with the code of conduct. Nevertheless, it acknowledges that it was understandable that the matter had caused concern to Ms Wenzel and that Cllr Keegan ought to reflect on his actions as they had caused understandable concerns from senior officers, and other members, about the public perception of his relationship with a large property developer.
"The authority has acted within its own procedures for reviewing breaches of conduct and considers the matter now closed."
Looking to the future, Councillor Keegan said "I am standing as a candidate in Alderley Edge and will be working to get elected. If I am, I shall carry on as a local member for Alderley Edge and take part in committees which are relevant to the village.
"After the election the Conservative Group will come together to elect a new leader, the new leader will appoint a new cabinet and we'll see who the new leader will be."