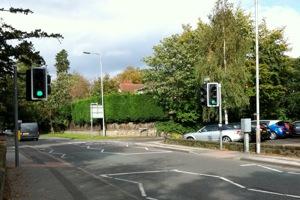 As a qualified Risk Assessor I was concerned to read in the Parish Council Newsletter that the intention is to make all the crossings in the village have pedestrian priority.
The first edition of the Parish Council Newsletter stated "There are short-term measures which the Parish Council and Cheshire East hope to implement immediately after the bypass is opened, such as mini-roundabouts, to change traffic priorities, and alterations to the pelican crossing lights in favour of pedestrians."
It would seem to me that it is common sense that drivers seeing pedestrians waiting by the kerbside are far more likely to be aware that the lights are going to change and can therefore prepare to stop. If the lights change immediately on activation by the pedestrian then the driver is at a great disadvantage, particularly in poor weather. Equally, as can be the case, if the pedestrian believes that the lights are going to change immediately then they may step out into the road before the vehicles have had time to come to a full halt.
The latter event I have witnessed many times at the crossing by the Alderley Edge Girls School and the Total Garage. I have seen cars unable to stop as pedestrians walk straight in to the road as soon as they have pressed the button, and even vehicles brush the legs of those on the crossing as they pull up to a halt. This does not occur on Ryleys Lane, where the crossing lights give priority to motorists.
I would recommend that all lights in the village give priority to the vehicles on the road, and thus reduce the risk of an accident taking place.
This a member post from Graeme Simister.
Tags: