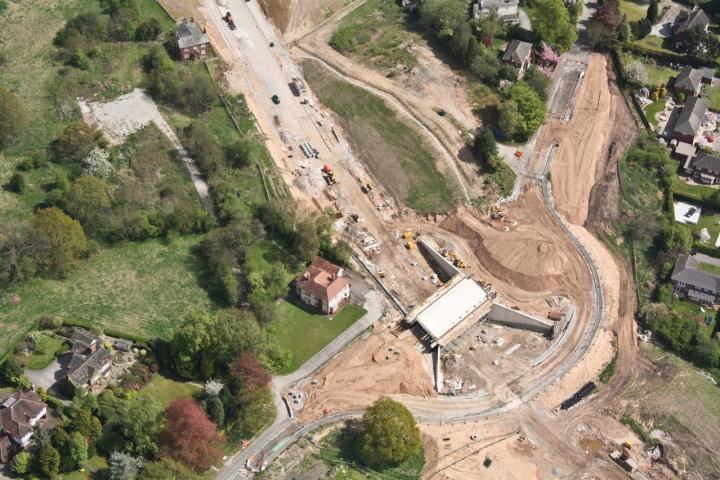 Birse Civils are now making significant progress with the A34 bypass works and as we reported last month they are way ahead of schedule and should be in a position to open the new road later this year.
Below is the latest information regarding some important changes to the local road network, which will be happening in the near future as a result of the bypass works:

Brook Lane
The road remains closed to vehicles, although the pedestrian route will now be maintained.
The target date for reopening the road is 19th August 2010.
Chelford Road
The new bridge is now complete, the diversion of all services out of the existing road and over the new bridge will be completed on 6th June, the next stage will then be to divert traffic over the new bridge.
Construction of the new road over the bridge is ongoing, and in order to complete the new kerbing and surfacing Birse will need to close the A535.
The intention is to close the road after the peak period on June 24th and it is anticipated that it will remain closed for 7 to 10 days.
A diversion route will be set up via the A34 and A537, signs will shortly be erected advising motorists.
As the diversion route is via the Monks Heath area all traffic management restrictions at that junction & Bollington Lane, see below, will be removed before the A535 is closed.
Welsh Row
No imminent change, Birse are currently anticipating to opening it to traffic in November.
Bollington Lane
To enable the closure of the Chelford Road, Bollington Lane will be opened by June 24th.
The junction will be opened in a temporary condition and Birse will return here to complete the traffic signals and final surfacing at a later date.
Once Chelford Road is reopened, Bollington Lane will be closed again as a through route.
Birse are currently looking at the programme and will be providing more specific details regarding the works at Monks Heath and Bollington Lane when the programme has been revised.
Visit our previous article to view the most recent overhead photographs of the A34 bypass, which were taken last month.
Tags: