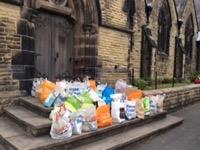 A car packed to the roof with food donated by local residents has headed to Wythenshawe where the contents will be distributed to less fortunate families.
For several years, Alderley Edge Methodist Church sent the contents of their food bank collection to the Colshaw Estate in Wilmslow, however this ended a few months ago when the lady who had been instrumental in distributing the food was not well enough to continue.
Judy Povey explained "On searching for an outlet for our food bank donations, we were directed to a wonderful piece of work being organised through the Methodist Church in Wythenshawe. Just after Easter we sent a car loaded with food of all descriptions, all of which was much appreciated and well received."
Over the past couple of weeks, Alderley Edge Methodist Church has had five collection boxes positioned at various homes around the village and they have been overwhelmed by the volume of donations and contributions - some of which have come from their parishioners but many of them are from passers-by.
On Tuesday, 19th May, Rev. Rod Hill filled his car with all the donations and has taken the contents of the collecting boxes across to Wythenshawe.
Judy said "We want to say a huge thank you to the people who have donated to us so that we could help others; even in these very difficult and challenging times for each one of us, our community is reaching out to help others less fortunate.
"We will not know the families who will benefit from the food bank collection, but what we do know is that their need is greater than our need, and if, between us all, we have been able to bring some relief to their worries and concerns, then every single contributor to our collection has shown a true act of kindness.
"Thank you to everyone...... our church building may be closed and a sense of emptiness might project from its walls, but the heart is still in there and we can continue to reach out to help those who need our support."