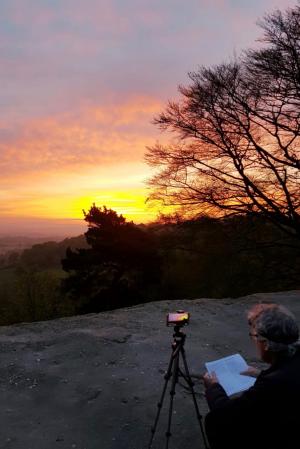 Like so many organisations, St. Philip and St James Parish Church has had to adapt radically in response to the national Covid 19 lockdown.
The church building is closed even for private prayer and the vicar, Rev'd Robin Pye, is live streaming services from the vicarage.
He said "I've had to learn a lot about the internet very very quickly,' said Rev'd Pye, 'I had one or two frustrating moments but I have enjoyed the creativity that this transformation has required of me and it has been a joy to see the wonderful way in which our congregation has adapted and held together. I think, in some ways, we are closer to each other now than we were when we were able to meet in the church building."
Services are live streamed via the church Facebook page at 8am on Sundays and at 11.30am on Wednesdays and are then uploaded onto the church YouTube channel at
Rev'd Pye said "In some important ways our church is actually flourishing because of the lockdown. For example, our Sunday School now meets weekly online instead of monthly as before and the number of children attending has grown. If your children would like to join, just email sundayschoolstphilipsae@gmail.com.
"We have started live streaming a Tuesday Tots story and songs at 11.30am on Tuesdays and this has proved to be very popular. We email a Thought for the Day out every day to people who have requested it and these are now being shared far and wide across Cheshire and beyond. We are co-operating with Alderley Edge Methodist Church to produce the Thought for the Day and every Friday I lead morning prayer on their Facebook page so we are co-operating as Churches Together in Alderley more regularly than we have for a long time. I am optimistic that we will retain these and other advances even after the lockdown ends."
Another innovation is the Community Support Scheme which the church has established in cooperation with the Methodist Church and with support from the Parish Council and the Institute Trust.
The church has recruited almost 50 volunteers who have been or are being taken through a police check and are supporting people who have to self isolate by doing their shopping, maintaining telephone contact and dealing with other emergencies. The volunteers buy the shopping with their own money and are re-imbursed by the church who collect payment from clients who only have to pay after they have received their shopping.
The service can accommodate many more clients so if you are self-isolating or if you know somebody who is, and you think this service could be helpful, please contact the vicar on revrobinpye@gmail.com.
Meanwhile, the church Foodbank has been overwhelmed with generous offers of support and donations of food.
Again, if you have no money for food or know somebody else who is financial difficulties, please email the vicar.
Weddings and baptisms have been postponed but the church is still conducting funeral services.
Rev'd Pye said "This is the one exception that the church is making. I am available to conduct funeral services either at the crematorium or at the cemetery. I am subject to the limitations on people attending that the crematorium and cemetery impose. I have also offered families who have lost loved ones the option of having a memorial service in church when we are permitted to do so. There will not be a charge for such services; people can make a donation via the collection plate if they wish to do so. We continue to pray for people who are sick or bereaved and especially those who have not been able to say goodbye to loved ones in the way they normally would. Their pain lies very heavily on our hearts."
For more information, visit the church website.
Photo: Every year the church has a service at 6am on Easter Sunday at Castle Rock. This year Rev Pye went up on my own to live stream a service. (Somebody else turned up as well (and hence they were able to take this picture).