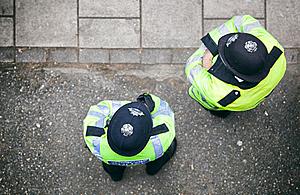 Cheshire Police are pleading with the public to obey the exercise rules during the coronavirus lockdown as many local residents are continuing to travel.
The warning comes as police are continuing to receive reports of people driving to the countryside for exercise or to walk their dog.
The Government rules during lockdown allow people to leave their homes once a day to take exercise but to stay local and not travel to green spaces, parks and beauty spots during the current epidemic.
The Government guidelines also set out that dog owners are allowed to walk their pet as part of their one form of exercise a day, and not as a separate exercise.
A spokesperson for Cheshire Police said "We are still receiving reports of people travelling out into the countryside to "take their exercise" with excuses like " I always walk the dog here" "I needed to get the kids out of the house" these are not acceptable or valid in the current climate. Please only walk / exercise from your own home follow the Government guidelines.
"We will continue our day to day policing but If we come across or are called to people choosing to break these rules which are there to keep all of us safe, we will take action. We need you Stay at Home, we need you to Stay Safe, we need to Be Safe for everyone including your love ones."
On Friday, 26th March, the government made new public health regulations strengthening police enforcement powers in England, to reduce the spread of coronavirus, protect the NHS and save lives.
If members of the public do not comply and stay at home and avoid non-essential travel, the police may:
• instruct them to go home, leave an area or disperse
• ensure parents are taking necessary steps to stop their children breaking these rules
• issue a fixed penalty notice of £60, which will be lowered to £30 if paid within 14 days
• issue a fixed penalty notice of £120 for second time offenders, doubling on each further repeat offence
Individuals who do not pay a fixed penalty notice under the regulations could be taken to court, with magistrates able to impose unlimited fines.
If an individual continues to refuse to comply, they will be acting unlawfully, and the police may arrest them where deemed proportionate and necessary.
Home Secretary Priti Patel said: "The Prime Minister has been clear on what we need to do: stay at home to protect our NHS and save lives. All our frontline services really are the best of us and are doing an incredible job to stop this terrible virus from spreading.
"That's why I'm giving the police these new enforcement powers, to protect the public and keep people safe."
The Government guidelines are:
You should only leave the house for very limited purposes:
• shopping for basic necessities, for example food and medicine, which must be as infrequent as possible
• one form of exercise a day, for example a run, walk, or cycle - alone or with members of your household
• any medical need, including to donate blood, avoid or escape risk of injury or harm, or to provide care or to help a vulnerable person
• travelling for work purposes, but only where you cannot work from home.