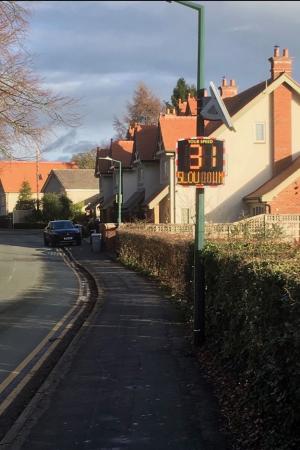 Alderley Edge Parish Council has decided to purchase an additional speed indicator device at a cost of £1900 which means there will be three in operation in the village.
Interactive speed signs, purchased by the Parish Council, have been placed on Heyes Lane and Congleton Road for approximately 14 months and the new one will replace the existing battery operated device currently located on Brook Lane.
Councillor Craig Browne said "Our experience of these devices at both locations has been very positive and we believe that they have helped to deliver a change in driver behaviour. The data downloaded from both devices has been used to support our call for the introduction of speed reduction measures within Alderley Edge.
"It is proposed that the new device will replace the existing battery operated TWM300 device currently located on Brook Lane. The new device will again be solar-powered, whilst the existing TWM300 model will be moved to an alternative temporary location within the village. The decision to purchase an additional device has been taken with the full support of our local Community Speedwatch team of volunteers.
"We are looking forward to having the new Speed Indicator Device in position in the near future."
Tags: