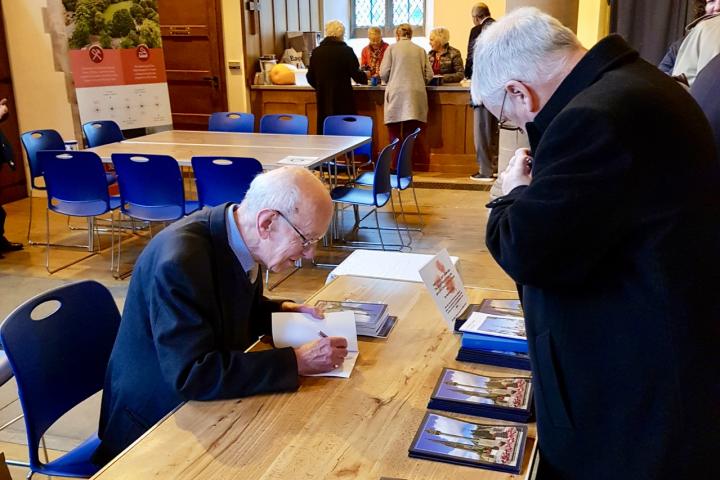 The people of Alderley Edge who gave their lives in the First World War have been remembered in a book by local historian Michael Scaife.
They Shall Not Grow Old was launched this week, and personalises the 72 men and 1 woman whose names are on the War Memorial in Alderley Edge.
This project started 5 years ago, when the then Vicar of St Philip & St James, Revd Jane Parry, asked Michael if he could write something about the soldiers on the war memorial to commemorate the centenary of World War 1.
Michael researched all 72 men, and they featured each month for the 4 years on alderleyedge.com and the newsletter distributed to 2500 homes around the village.
He said. "It has been fascinating to discover the varied backgrounds of the men – some from the villas on the edge, but also others from the working-class terraces in the 'back streets'. They are a true cross-section of the people of Edwardian Alderley Edge – and this book has enabled me to do justice to some whose stories had to be compressed to meet the space constraints of the monthly newsletter."
Interesting facts are included, for example the names are recorded in alphabetical order and not in order of rank as on many other memorials and the youngest man who died was 18 and the oldest 46, and the majority were under 30.
Additionally, as well as the memorial to the soldiers there is a memorial laid in the pavement to Emily Fenton Armitage Hutton, the commandant of the Brookdale Red Cross Hospital. This was a villa on the site of Alderley Edge School for Girls and had been made available by its owners to be used as a military hospital.
Mandy Parr who helped Michael said "I was determined to make sure all Michaels research reached as many people as possible and helped him compile his four years' research into this book. In past years I have spoken to families who travel long distances to see our memorial and pay homage to their relatives on Remembrance Day, and now they will maybe know a bit more about them."
The book is on sale in all the churches in Alderley Edge and at the British Legion stall in Waitrose this weekend, priced £8, with all profits from the sale will be given to the British Legion.