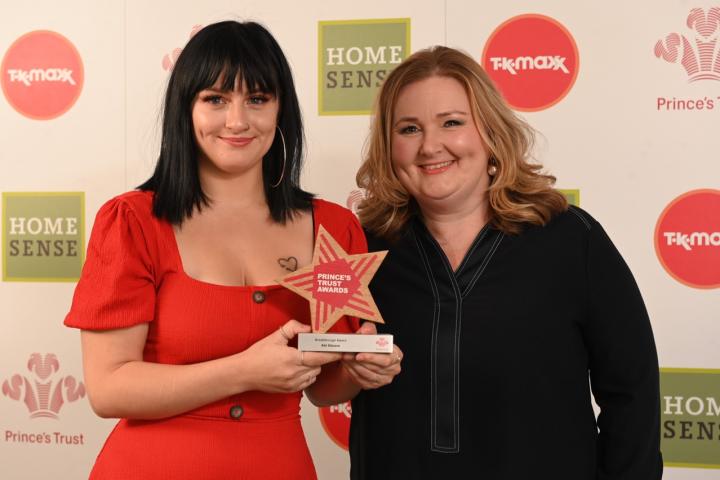 Abi Gleave has won the North West HSBC UK Breakthrough Award at The Prince's Trust Awards.
Abi from Wilmslow was presented with the award at the North West ceremony at Chetham's School of Music in Manchester on Wednesday, 9th October.
The awards honour the achievements of young people who have succeeded against the odds, improved their chances in life, had a positive impact on their local community, as well as people who have played a part in supporting the work of The Trust.
Abi's story said "If I hadn't found The Prince's Trust, I honestly don't know if I'd have survived."
As a result of her mum's mental health problems, Abi entered the care system when she was nine and stayed there until she was 16.
She explained "When I returned, my mum was still bad and, by that time, I also had a little sister to look after. I just wanted to give her as normal a life as possible, but I had my own mental health struggles and often couldn't bear to leave the house.
"Looking after Mum again, I got back into bad habits; I lost interest in reading, music, and even my love of writing. I just lost all confidence to do anything."
Social services recommended that Abi visit a Work Coach at the local job centre, and that proved to be a vital step as she was referred on to The Prince's Trust.
She joined the Team programme, which builds the confidence and skills of unemployed young people so that they are better equipped to find work.
Abi said "I remember the first day, my anxiety got the better of me and I was looking for any excuse not to go, but I made it. Then I was in a group of all boys! I just decided to go for it and I threw myself into everything. Encouraging others and helping them to overcome their fears massively helped to build my own confidence.
"I left Team with a totally different outlook on life. I'm much more focused and I'm coping much better with looking after my Mum. My family are also more settled now, which means the world to me.
"I still don't quite feel ready to enter the world of work full time, but I'm volunteering in my community and building my social skills by speaking to different people every day. The Trust has given me a stability in my life that I've never had before, and it gave me people I never want to forget. I'm now getting better and I'm planning for my future, which I couldn't have begged for not long ago."
Speaking at the ceremony, where she received the HSBC UK Breakthrough Award, Abi said: "I have a different outlook on life now that I've taken part in The Prince's Trust Team programme. I'm planning my future and to receive this award just spurs me on to achieve even more."