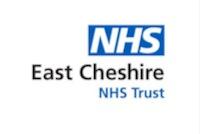 East Cheshire NHS Trust has again been rated 'Good' by the Care Quality Commission (CQC) with areas of 'Outstanding' practice following recent inspections of the trust's services and leadership.
The CQC'S rating of the trust stayed the same at good because they rated effective, caring, responsive and well-led as good, and safe as requires improvement. We rated 12 of the trust's 13 services as good and one as requires improvement.
The trust, which runs local community health services along with Macclesfield District General Hospital, Congleton War Memorial Hospital and Knutsford and District Community Hospital, underwent an inspection of its services and leadership team in June and July 2019.
The CQC rated 12 of the trust's 13 services as good and one as requires improvement. It also reported areas of outstanding practice in the following: Critical care; End-of-life care; The Outpatients Department; Community services for children, young people and families.
However, community health services for children and young people was rated as requires improvement because some groups of staff were unaware of the systems in place to respond to the potential risks of patients with sepsis and not all records were up to date and easily available to all staff providing care.
Additionally, the arrangements for monitoring patient outcomes were not consistent, staff appraisal rates in some teams did not meet trust targets and arrangements to make sure that some children, young people could make legally informed decisions about their care and treatment were not effective.
Following the inspection the Care Quality Commission also concluded that transition arrangements of children and young people were not suitably planned or monitored to meet individual need, information was not always in formats that met individual needs and there was a lack of a clear vision and strategy to ensure that all staff felt connected with the trust and ensure that the service was monitored.
Also, leaders were not consistently visible in the service and there was limited engagement with patients, staff, equality groups, the public and local organisations to plan and manage services.
Trust Chief Executive John Wilbraham said: "I am delighted that we have again been rated 'Good' by the CQC and improved on the results of our previous assessment in several key areas.
"I am extremely proud that once again the CQC found our staff to demonstrate patient- focused and inclusive care, compassion, kindness and respect, along with maintained privacy and dignity.
"They also experienced a well-led open culture and high staff engagement throughout the areas they inspected.
"I would like to thank staff across the organisation for their continued commitment to patient care."
The full report can be accessed via the CQC website.