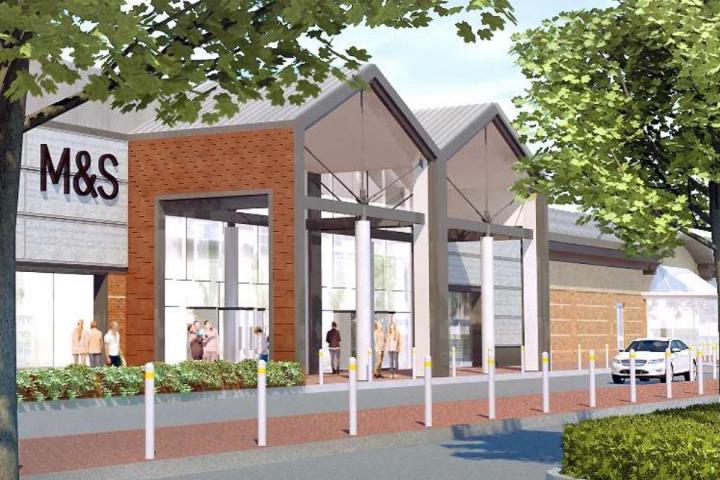 Plans to expand the Marks and Spencers' store at Handforth Dean Retail Park, which they jointly own with Tesco and opened in October 1995, unanimously approved by the Strategic Planning Board today (Wednesday, 25th September).
Cllr Dave Jefferay said "It was generally welcomed by the committee that a high street retailer was feeling confident enough to expand in the era of online shopping.
"There were two areas I was concerned about though. Firstly, the loss of parking spaces. However, from the data provided it was clear that, even taking into account the increased trading, there will be sufficient spaces and it will meet the standards that we would expect if it was a planning application for a new development.
"Secondly, as a Wilmslow Ward councillor, I was concerned about the effect on ur town. An independent assessment had been carried out which indicated that the trade diversion from the town would be acceptable. It said that it would be a few hundred thousand pounds. I took the view that, whilst it's never ideal for the town to lose trade, the impact was insufficient to refuse the application."
Over two years after the initial application was submitted, the retailer can now proceed the works which include making amendments to the car park layout which will see the number of spaces reduced from 248 to 153.
The planning application was scheduled be determined at last month's meeting of the Strategic Planning Board when the Planning Officer was recommending it for refusal because "a number of sites can be identified that have not been considered within the sequential assessment. These sites may be sequentially preferable to the application site and therefore it cannot currently be concluded that the application complies with the sequential approach required by policy EG5 of the CELPS."
However, the application was withdrawn ahead of the September meeting and the applicant was subsequently asked to consider vacant sites in Macclesfield, Stockport and Wythenshawe town centres.
All the additional sites considered were deemed too small to accommodate the extended store or unsuitable and the Planning Officer changed his recommendation to approve, stating "There are not considered to be any available sites that are sequentially preferable to the application site and therefore it is considered that the proposal satisfies the sequential test.".