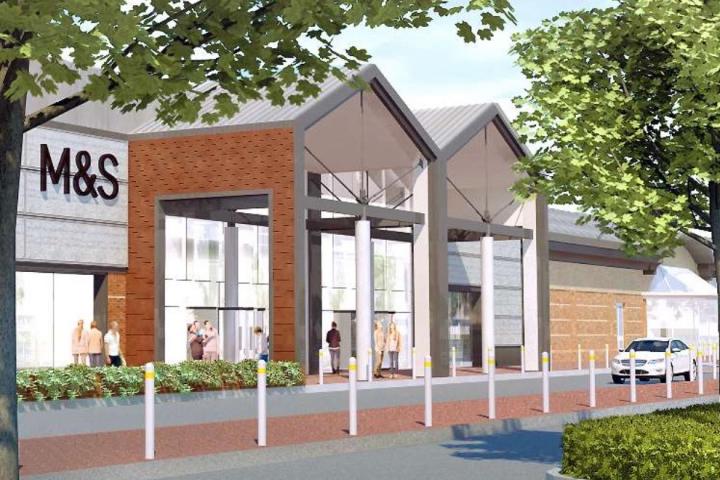 Plans to expand the Marks and Spencers' store at Handforth Dean Retail Park, which they jointly own with Tesco and opened in October 1995, are finally due to be determined by the Strategic Planning Board next week - two years after the initial application was submitted.
The proposal also includes making amendments to the car park layout. The current car park provides 248 spaces with 13 accessible spaces and eleven parent and child spaces. The proposed scheme will see the number of spaces reduced to 153 with 14 accessible spaces, 6 parent and child spaces and a new drop off/pick up zone with 4 spaces.
The planning application was scheduled be determined at last month's meeting of the Strategic Planning Board when the Planning Officer was recommending it for refusal because "a number of sites can be identified that have not been considered within the sequential assessment. These sites may be sequentially preferable to the application site and therefore it cannot currently be concluded that the application complies with the sequential approach required by policy EG5 of the CELPS."
However, the application was withdrawn ahead of the meeting and is now being recommended for approval at the Strategic Planning Board meeting on Wednesday, 25th September.
As part of their original submission, Marks and Spencers undertook a search for sites which included Daisy Bank Lane, Heald Green; Land South East of the Junction of Styal Road and Finney Lane, Heald Green; Metropolitan House, Cheadle Hulme; Massie Street Car Park, Cheadle; Cheshire East Leisure Centre Car Park, Wilmslow; Land at Meadway, Bramhall; Water Street, Stockport; and Barracks Mill, Macclesfield.
Each of these sites was dismissed, and it is accepted that none of them are available and suitable to accommodate the proposed development, either in part or in full. The applicant was subsequently asked to consider vacant sites in Macclesfield, Stockport and Wythenshawe town centres.
All the additional sites considered were deemed too small to accommodate the extended store or unsuitable and the Planning Officer concluded "There are not considered to be any available sites that are sequentially preferable to the application site and therefore it is considered that the proposal satisfies the sequential test.".
As a result the Planning Officer is now recommended the plans for approval.