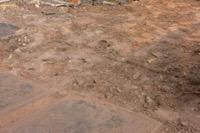 Residents are being urged to be vigilant following the theft of some York stone slabs from outside a property in Alderley Edge.
The incident occurred between Sunday 1st September and Monday 2nd on Horseshoe Lane, Alderley Edge when a number of York Stone slabs were taken from the front of the property and others have been tampered with.
PCSO Anna Jenkinson said "There have been incidents of York Stone being stolen all over the county for a number of years now. We have caught a few people, however there seems to be many people doing this who seem to be coming from all over.
"We haven't had any incidents for a few months locally, but we need to continuously be aware of this especially in our area as people turning up in a works van with high viz and starting to dismantle a drive or wall is not something unusual in Alderley Edge as so much building work goes on around the village.
"If you see anyone taking stone especially outside working hours of Monday to Friday then please take a vehicle registration and call us on 101."