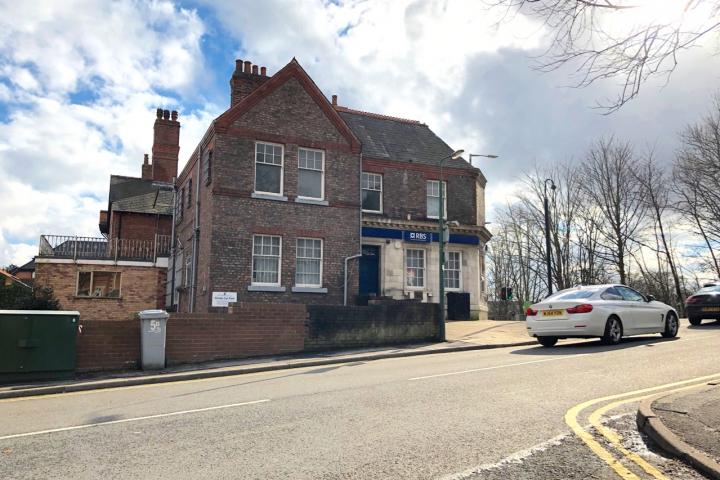 Plans to give a former bank a new lease of life have been submitted to Cheshire East Council.
One London Road Ltd have applied to change the use of 1 London Road to allow the basement and ground floor to be used for flexible purposes and the upper floors to be used for offices.
Additionally the scheme includes a three-storey rear extension with a roof terrace and the reconfiguration of the roof space for office purposes.
External alterations including raising the ridge line, the installation of dormer windows to the front and rear elevations, a new oriel bay window to the side elevation and the relocation of the front entrance.
The prominent building, located at the junction of London Road and Heyes Lane, has been empty since the Royal Bank of Scotland closed their Alderley Edge branch in November 2018.
Colin Williams of The Planning Studio explained "The applicant company proposes to bring back the building into full economic use, with the initial conversion being for full office uses within the building.
"However, as the client company is proposing to invest very significant funds creating a modern high quality extension and a conversion of the property across all floors, they wish to retain the option in a future date to offer part of the basement and ground floors for alternative commercial uses.
"At this stage, it is not known which alternative commercial use would be preferable and therefore we are instructed apply for a range of town centre type uses that would be appropriate for the building.
"We therefore have sought to apply for flexible purposes a range of uses within classes A1 (retail), A3 (restaurant), A4 (bar), B1 (offices) and D1 (medical)."
One London Road Ltd wish to add an extension, creating a larger gross internal floor area to be used for business purposes. The application states that their key required spaces include: meeting room, media lounge, large open plan offices, boardroom, gym and therapy area, steam room, changing and toilet facilities plus off street parking.
The existing footprint of 281.4m2 will increase to 438.4m2 with the addition of a second floor and the extension.
The application states that they "desire to create a high quality work place with complementary leisure facilities and associated ancillary spaces, improve the street scene of London Road and set high standards upon entry into the village. No1 London Road is intended to set a high standard and be a place where people aspire to work and visit."
The plans can be viewed on the Cheshire East Planning Portal by searching for reference 19/3406M.