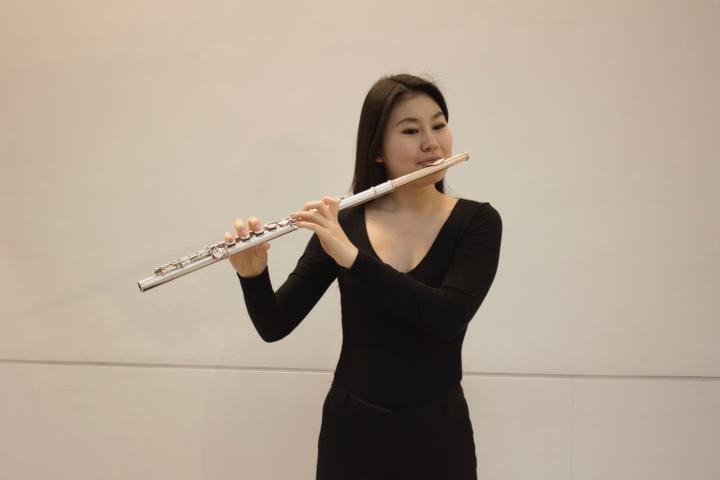 On May 18th, the Alderley Edge Symphony Orchestra will take you on a dazzling dance tour from the concert halls of Paris to the wide, open plains of Dvorak's New World symphony. To guide them on their travels are the popular conductor, Robert Chasey, and brilliant young flautist from Chetham's School of Music, Joanne Lee.
Robert Chasey was for many years Principal Second Violin of the BBC Philharmonic Orchestra. As a soloist he performed all over the world in such varied places as Philadelphia, Gibraltar and Montreux. The conducting spark was lit while working with the late Rudolph Kempe in London and Switzerland. Bob has 30 years' experience as a conductor and his great humour and charm instil wonderful warmth wherever he goes.
The concert will open with the overture from Offenbach's popular comic opera, La Belle Helene. This was first performed in 1864 and was an instant success. It tells the story of Paris and Helen and her abduction by the Trojan prince disguised as a shepherd. It is filled with lively melodies and dance rhythms.
This is followed by a beautiful flute composition, popularised by James Galway: the Poulenc Flute Sonata, orchestrated by Lennox Berkeley. The orchestra is joined for this by 18 year old flautist, Joanne Lee, currently studying at Chetham's School of Music. Joanne was born in South Korea and moved to America when she was 9 years old. She started playing the flute in America and moved to Chetham's at the age of 12. In her first year there Joanne won the annual Chetham's concerto competition. She was in the category final of BBC Young Musician of the Year in 2016.
For the next piece of music, cast off your sophisticated French couture and don your check shirts and cowboy boots for a rousing stomp with Aaron Copland's Rodeo! This ballet was composed in 1942 and is a love story of the American South-West. The orchestra will play two movements from the ballet suite: Saturday Night Waltz and Hoe-Down. A heroine fit for our times, the Cowgirl is a woman striving to get on in man's world, to become one of the ranch's cowhands in spite of ridicule by men and women alike. Needless to say, she achieves her ambition in the end and also gets her man, the Champion Roper! All of which is celebrated in the foot-stamping Hoe-Down, ending with a grand fanfare from the orchestra.
You will need that interval drink!
The second half of the concert is one of the most popular symphonies of all time, Dvorak's beautiful Symphony No. 9, From the New World. Dvorak was fascinated by Native American music and by African-American spirituals. At its premiere in the Carnegie Hall, every movement was met with thunderous applause. Dvorak's great friend and champion, Brahms, sent a message via their mutual publisher, "Tell Dvorak how pleased I am with his joyful creation"
Conductor, Robert Chasey, has these words about the symphony, "Yes the New World is hugely popular and rightly so. In all aspects of construction, orchestration and invention it goes to the top of the tree. However, these factors alone cannot account for its worldwide and seemingly never ending appeal. This must be put down to its sheer emotional honesty. No pretence, no intellectual trickery just a glorious mix of joy, nostalgia and in no small measure fun!!! "
The concert will take place at 7.30pm on Saturday 18th May in the Festival Hall in Alderley Edge, SK9 7HR. Tickets cost £10 for adults and £1 for under eighteens. Tickets will be available on the door or can be bought in advance through the website www.aeso.org.uk or on the ticket hotline 01625 581321.
If you are a string player looking to join a friendly and ambitious orchestra get in touch with us via the website or by phoning Roger Dowling on 01925 756390.
Guest post by Helen Hall.
Tags: