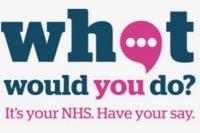 People keen to influence the future of the NHS in Eastern Cheshire are being encouraged to make their views known.
The Government is investing £20 billion a year in the NHS as part of the NHS Long Term Plan and local organisations have now been asked to work out what changes will be made locally to help make the NHS better.
Healthwatch Cheshire East is launching 'What would you do?' to encourage people to share their views about what changes to local NHS services should look like.
The public are being asked for their views about how services could be improved. They will also be asked to share their ideas on how people can live healthier lives and what improvements they think could be made to help people access services quickly.
Charles Malkin, Communications Manager, NHS Eastern Cheshire CCG said "We know that the NHS only works when people's voices are heard. This is a once in a generation chance for local people to help decide where this extra money from Government should be spent in our NHS services in Eastern Cheshire.
"We want to hear from as many people, groups and communities as possible to ensure the local plans reflect the needs of our population. We want to hear about what works, what doesn't and how people think local health services should be improved. No matter how big or small the issue, we want to hear about it. Sharing your experience with us is quick and easy - and could make a big difference."
Click here for more details on how to get involved in 'What Would You Do?'
Surveys are available in alternative formats online and by email or by calling 03000 68 3000.
Tags: