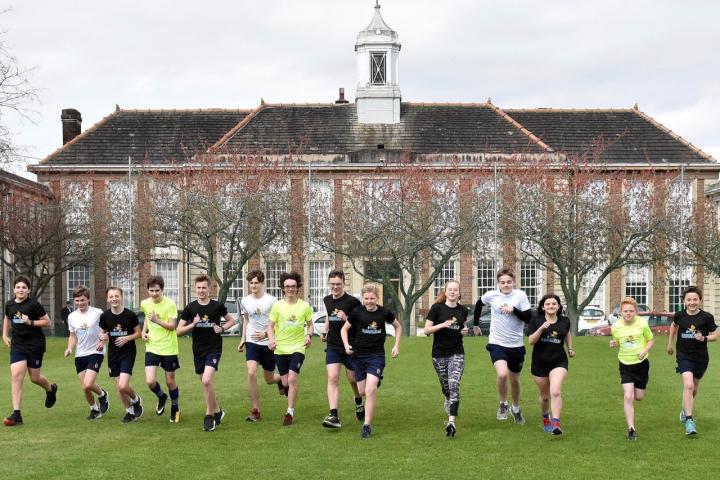 Teenage philanthropist Rory McCabe wasn't satisfied with raising £2,500 for charity so now wants to do even more with a little help from his friends.
Last year the 14-year-old King's School pupil from Mottram St. Andrew aimed to raise £1,000, but actually managed to gather in £2,500 for Headway by running 100km in one month:
This year he has recruited 14 of his friends at the Macclesfield school to follow in his footsteps.
This month 15 runners aged from 11 to 16, including both national champions and complete novices, will be stepping out across Cheshire's highways and byways each aiming to raise £1,000 for Young Minds U.K.
Rory, who received a standing ovation in his assembly after his efforts last year, said: "I enjoyed last year's challenge and felt it would be far more effective if we were a team so I approached some of my friends and put a notice out in assembly and the response has been fantastic."
Included in the marathon will be Jake and Ben O'Donnell, the Buxton brothers, who dominate local youth orienteering, with Jake, 12, winning the National Championships.
Older sibling Ben, 14, who wants to work in management in the creative industries, said: "We'll have to double our training regime, but it's not about who comes first, it's about all finishing together."
Rory has also recruited his little brother Jamie, 11, who attends Alderley Edge Community Primary School, but will go to King's in the Autumn and who will be with him running up and down Mottram Road to Alderley Edge and back every day.
Rory, who wants to be a politician, said: "He's actually a better runner than I am, and will keep me on my toes."
He added: "I chose Young Minds UK because mental health is a forgotten issue and in any class in the U.K. three of the 30 children will have a mental health issue and we must all learn about the complexity of the problems they face."
King's Boys' Principal Paul Cooper said: "It's fantastically heartwarming to see how many young men and women have rallied round Rory's cause. He's a young man on a mission with the power to persuade."
You can contribute to Rory's mission via his JustGiving website.
Pictured from left to right are the King's runners: Harry Owens, Euan Usher. Oscar Davies, Max Robnson, Lewis Johnstone, Tom Wilshaw, James Harman, Ben O'Donnell, Rory McCabe, Rebecca Foster, Oliver Watson, Holly McCellan, Jamie McCabe and Jake O'Donnell. Also running will be Ashton Nulty and Ollie Farrer.