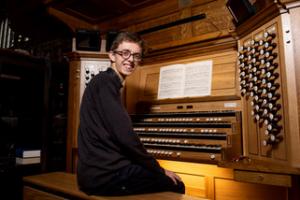 George Herbert, an 18 year old student at Cheetham's School of Music, will perform a selection of favourite organ pieces by Bach, Vivaldi and Saint-Saens at St Philip and St James Church on Sunday, 28th April.
George, who studies organ, voice and trumpet, is the Frederick Bridge Organ Scholar, the organist at St Peter's in Hale and in July 2017 was a quadruple prizewinner in his ARCO exam for the Royal College of Organists.
He has given recitals in Manchester Cathedral, Bath Abbey and at the Three Choirs Festival, and in August 2017 was Highly Commended in the Northern Ireland International Organ Competition and the youngest shortlisted candidate.
In 2012, George was honoured to be part of the "Diamond Choir" singing in the Queen's Diamond Jubilee service in St Paul's Cathedral.
Closer to home, George has been a regular performer at the Alderley Edge Festival since the age of seven, winning many classes for trumpet and composition. However, among his many talents, he is also an accomplished singer, and last year was the Alderley Young Singer of the Year 2018. At the Festival Finale he was presented with the Joyce Lowe trophy for his outstanding contribution to musical performance.
The concert will commence at 3pm and admission is free. There will be a retiring collection in aid of the organ restoration.
The concert will be followed by afternoon tea.