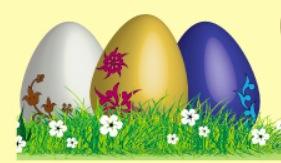 Promotional Feature
Aldeli will be hosting an Easter Bonanza of events on two separate dates so your little chicks can hop along in their school holidays!
On Wednesday 17th April at 9.30am they will be getting their Easter craft on with Easter bonnet making and decorating, with children making their very own hat to take home. Plus they will be personalising and icing chocolate eggs to also be taken home.
Tickets cost £16.50 per child, with lunch, a drink and frozen yoghurt being provided.
Then during Easter weekend, at 3pm on Saturday 20th April Aldeli will be hosting a special Easter cupcake decorating class, followed by Easter card making.
Tickets are also £16.50 per child, including lunch, a drink and a frozen yoghurt.
Ilana Higham said "We have found that by hosting children's activities in the school holidays we are the perfect local spot for a catch up for mums over a coffee or a glass of wine, while their little ones are occupied and having fun!"
For bookings please contact Ilana on 07779289301 or email the Deli at ilanahigham@me.com.
Tags: