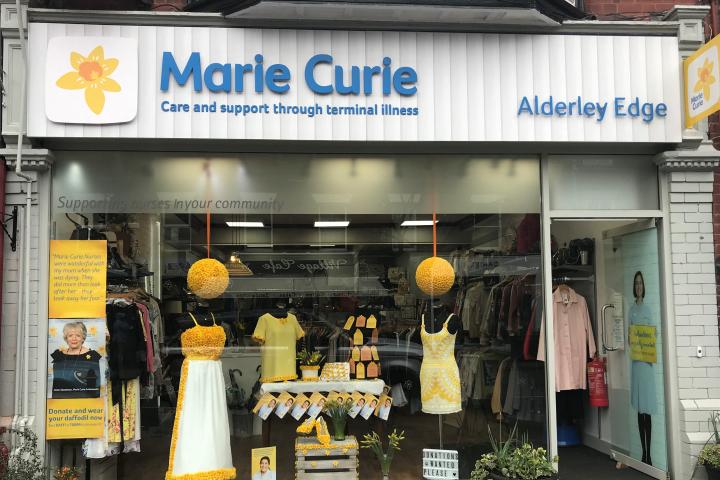 The Marie Curie shop on London Road has unveiled a special ball gown covered in daffodils in its shop window to celebrate the start of the Great Daffodil Appeal, the charity's biggest annual fundraiser.
Inspired by the appeal the ball gown, which was generously donated by a member of the public, has been redesigned by shop volunteers who created the unique display using over a thousand of the charity's daffodil pins.
The store is one of eight Marie Curie shops nationwide selected to feature a specially designed outfit, which will be on display in the shop window for the duration of the Great Daffodil Appeal.
Sue Watkins, Shop Manager at Marie Curie Alderley Edge, said: "We're always looking for creative ways to engage with people while spreading the word about how the Great Daffodil Appeal helps to improve the care available to people living with a terminal illness.
"We've spent the best part of the past three weeks adding daffodils onto the ball gown and making the shop window as bright and inviting as possible. I hope our windows will catch people's attention, encourage people to visit and in turn help to raise vital funds for Marie Curie."
In line with the Great Daffodil Appeal's 'Behind every daffodil, there's a story' slogan, the ball gown in the shop window is surrounded by mannequins covered in messages from people who have been supported by Marie Curie, while yellow pom-poms hang from the ceiling.
The Great Daffodil Appeal aims to change the fact that every 5 minutes someone in the UK dies without getting the care and support they need by encouraging everyone to give a donation in return for a daffodil pin. The money raised helps Marie Curie provide care and support to people living with a terminal illness and their families.
Visit the Marie Curie shop on 71 London Road to collect your daffodil pin. To find out more about the Great Daffodil Appeal, visit www.mariecurie.org.uk/daffodil.
Tags: