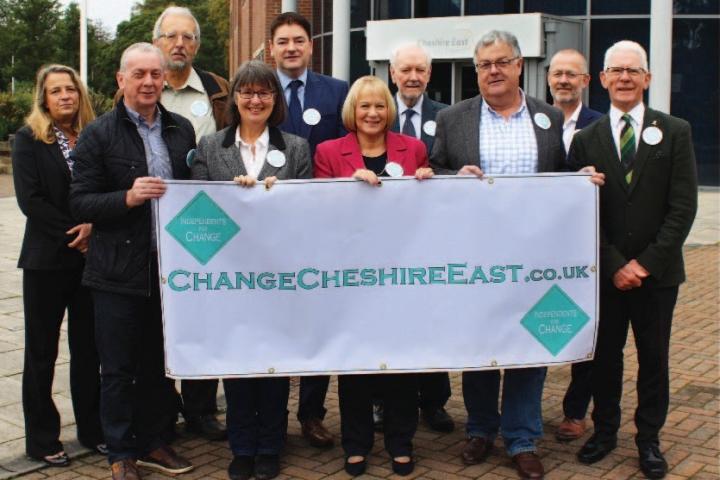 The Independent Councillors of Cheshire East Council have sent an open letter to the five MP's representing the residents of the Borough calling for them to add their support to the Change Cheshire East Campaign.
On the 5th March Cheshire East Council will be holding a special council meeting which has been called by the Independent Group to debate whether CEC should change from the current cabinet system to a committee system form of governance.
Independent Councillor Toni Fox said "The majority of decisions are currently made by a group of 8 councillors (the cabinet) who are all selected by one person and they are all from the same party. Under their governance the council is facing seven police investigations and numerous secret internal investigations.
"The committee system used by Crewe & Nantwich, Macclesfield and Congleton Councils for decades was very popular, and widely used around the country. It is considered to be for more open, transparent and democratic. All attributes which are desperately needed at Cheshire East Council."
In the Localism Act 2011 the coalition government re-instated the option of operating a committee system. Several councils across the country have changed to a committee system since 2011 including: West Dorset, Fylde, Canterbury and Reading Borough Unitary Council, whilst Sheffield Council is also currently collecting signatures to hold a referendum to change to a committee system.
The Open Letter was sent on February 7th to MPs David Rutley, Antoinette Sandbach, Fiona Bruce, Esther McVey and Laura Smith asking them to publicly support their campaign and their motion at a Special Meeting of Council on the 5th March to change to a committee system.
The letter states "Since 2017 the Independent Group have been tirelessly trying to improve the ethos within the Council, however there continues to be serious concerns in how CEC is being run. As residents and councillors, we are so concerned by this, that we have instigated a non-political campaign to change the way CEC is governed.
"The objective of this campaign is to request CEC change from the current cabinet system, to a more open, transparent and democratic committee system of governance. It is clear that many thousands of residents agree.
"The current closed-shop cabinet system is bringing this council into disrepute. There have been: seven police investigations; at least one known public pay-off to the tune of £45,000; senior staff suspensions; and numerous Independent Disciplinary Committee (IDC) investigations, all of which have been dealt with in secret and the findings concealed.
"Claims that all these problems are 'historic' are simply not true. Five of the current eight cabinet member have been there since the last borough elections in 2015.
"These issues are having a serious effect not only on confidence, but also on the finances at CEC; they are also having a detrimental effect on staff morale. Even the current acting Chief Executive has admitted that it is difficult to recruit new officers at CEC."