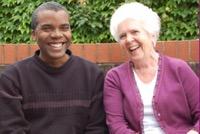 Monthly meetings of the national charity Rethink Mental Illness Wilmslow Mental Health Group will be starting at Wilmslow library this month.
A number of people attended a launch event held at Wilmslow library in November which provided clear evidence that there was a need for a peer support group in Wilmslow, enabling people to meet others with similar experiences to themselves.
Matthew Hyndman, Rethink Mental Illness Group Development Officer for the North West commented "When people learned about the kind of peer support groups, we run across Cheshire there was a real appetite for a similar group in Wilmslow. We knew we needed to get the group going from the start of 2019."
Rethink Mental Illness supports over 130 local peer support groups in England which are run by people with their own experience of mental health issues and/or their carers and family members. The groups provide empathy, acceptance and reassurance. People can share experience and receive guidance from peers in similar situations. The groups also provide an opportunity for information and for members to increase their self-confidence.
Rethink Mental Illness Group Member Helen said "I had really felt alone and isolated, so going to a group was a big step and I really didn't think it would be my thing. But they were so friendly and welcoming it made it much easier. Listening to others gave me the confidence to feel safe and talk about how I was feeling and nobody even flinched, I actually felt normal again."
Anyone can go along for a coffee and chat or get in touch with the group anytime via email groups@rethink.org or phone (01823 365327).
The Rethink Mental Illness Wilmslow Mental Health Group start on the 21st February followed by regular monthly meeting on the first Thursday of each month from the 7th March 2019. The Group will run from 5pm to 7pm at Wilmslow Library.