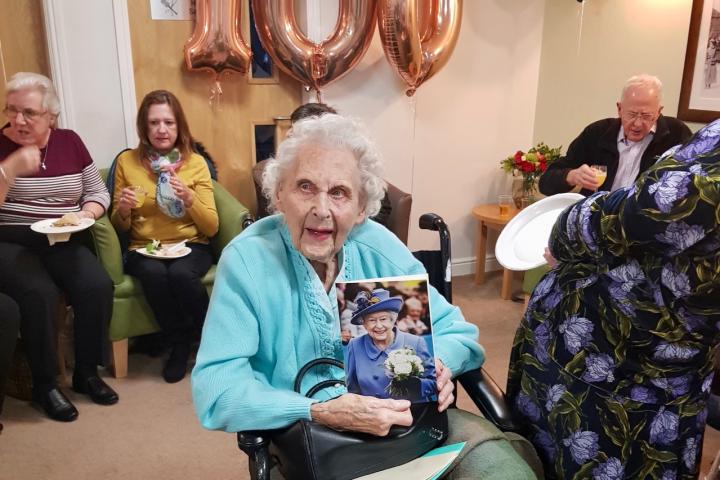 Parishioner Mary Beck recently became the oldest person to read the lesson during a service at St Philip and St James church.
Thanks to modern day technology Mary was recorded in her room at Woodlands Care Home, Poynton, reading the lesson and this was then played on the screen at the back of church during the service.
Mary celebrated her 100th birthday with her family on the afternoon of 12th January 2019, when she was joined by her daughter Catherine, son in law Peter, two grandsons and their wives as well as three great grandchildren.
Mary, husband George and Catherine came to live in Wilmslow in 1963 after living in Cyprus for three years due to George's job. Mary worshipped at St Philip & St James church until 2018 when she unfortunately broke her hip and could not be brought to church any longer.
Mandy Parr explained "Mary taught in the Sunday School from 1965 to 1985 becoming the Superintendent. In the 1960s the Sunday school was held at St James's church, a "tin tabernacle" at the bottom of Heyes Lane, Alderley Edge, and there were enough children to fill 2 coaches on the annual outing to Trentham Gardens.
"For some years Mary organised the church lesson reading rota and would train readers in their expression and voice projection. She enjoyed read the lesson herself and also took the intercessions from time to time. She and George were sidesmen and sometimes acted as vergers too."
After the family settled in Wilmslow in 1963 Mary joined the Women's Royal Voluntary Service progressing from office jobs to taking round the meals on wheels as an assistant and then as the driver and finally being put in charge of the maintenance of the various WRVS vehicles. She was given a service medal in 1991 marking over 27 years of service. Through the WRVS she got to know people who were lonely and in need of a visit and very often on a Sunday afternoon she would visit an elderly person and take them out for a drive. She continued doing this well into her 80s.
Rev Robin Pye said "It is a real privilege for members of our church to be able to get to know Mary and converse with somebody who has played such an important role in our church for decades.
"Having a direct link to the past like this greatly enriches our lives and gives us a useful perspective on ourselves.
"Many people in this community will have their own memories of Mary, especially from her time as Sunday School teacher, and when they visit her they can relive these memories together with her; a rare and wonderful thing."