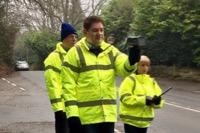 Parish Councillor Geoff Hall and Councillor Craig Browne joined local residents and volunteers on Thursday, 24th January to carry out their monthly Community Speedwatch session.
On this occasion they were located on Congleton Road, near to the junction with Whitebarn Road.
Councillor Craig Browne said "Residents sometimes query this location, as it is only twenty feet or so from the boundary with Nether Alderley, where the speed limit changes to 40mph; however, the speed gun picks up vehicles over 100 yards away as they approach the concealed junctions of Hazelcroft Gardens and Congleton Close (well within the 30mph limit)."
He added "On this occasion, we recorded 16 vehicles exceeding the speed threshold, which is a marked improvement on the number we have recorded on previous occasions at this location. Eight of the speeding vehicles were travelling under 40mph and eight were travelling over 40mph, with a top speed of 49mph and an average overall speed of 38mph."
All recorded drivers will receive an advisory letter from Cheshire Police for a first offence, or a visit from a Police Officer for a subsequent offence.
Their next session will be on Thursday 14th February. As always, they are reliant on the help of local residents and volunteers to run these sessions, so if you are able to spare an hour email Craig Browne.