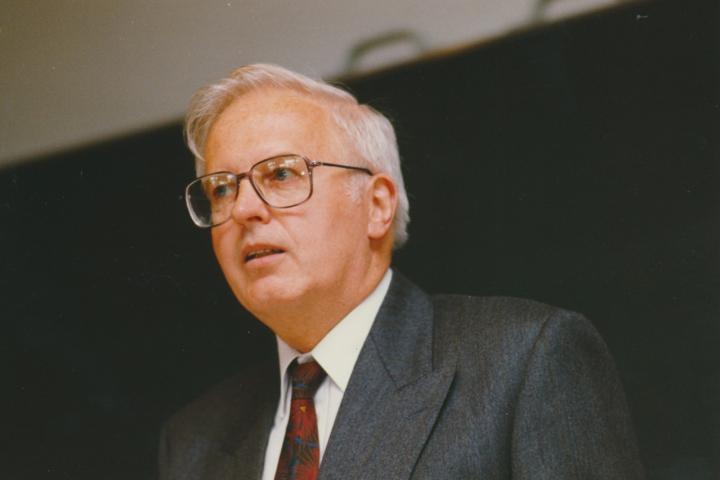 Tributes have been paid to Alderley Edge resident Professor Alan Wilfred Pearson who died peacefully at home on 11th January 2019, aged 84 following a short illness.
Beloved husband of Marianne, father of Carol, Michael, John and Mark by his first wife Irene (deceased 1986), and devoted grandfather, Alan will be greatly missed by his family, friends and former colleagues around the world.
His distinguished career in academia included Dean of Faculty at Manchester Business School. Alan was also a Governor for many years at Manchester High School for Girls.
Carol Pearson said "Alan was highly committed to the many roles he took on in his rich life. His numerous voluntary activities included youth leader and elder at his local churches, Treasurer and Chair of Croftside Tennis Club and Chair of The Wilmslow Civic Trust. Alan was an active sportsman throughout his life playing competitive table tennis and tennis and was a keen cyclist in his early years."
She added "His warm sense of humour and caring for others touched countless hearts and inspired many to great achievements."
Stuart Kinsey, Chairman of Wilmslow Civic Trust said "The Executive Committee and members of Wilmslow Civic Trust are sad to note the death of Professor Alan Pearson.
"Alan was Chairman of the Trust from 2008 to 2011 during which time he presided over the Trusts 50th Anniversary celebrations. Alan was popular and respected as a good chairman who ensured that other members of the executive "played to their strengths". Alan was personable, energetic and friendly, with analytical skills that enabled him to quickly identify and understand issues affecting the Trust and he made good use of his personal network to enhance the interests of the organisation. Alan Pearson will be remembered kindly by all those who knew him."
Alan joined the University of Manchester in 1964 having started his career in industry with Pilkington Brothers and Henry Simon Engineering. Alan was a Lecturer in Economic Studies before MBS founding Director Grigor McClelland approached Alan to join the School on a permanent basis as a Lecturer in Operational Research.
Alan worked to push the forming of the Manchester Federal School of Business and Management, which was founded in 1994 with Manchester Business School, University of Manchester Institute of Science and Technology (UMIST) and the Manchester School of Accounting and Finance joining forces.
Not only did Alan play a key role in driving the development of the School's pre-merger, he played a pivotal role in Manchester's management research. By helping to set up the International Journal of Management Reviews, now a global top 10 management journal. He was also the original editor of the R&D Management Journal, which started in October 1970 and is still thriving today.
Professor Sir Cary Cooper, former Head of the Manchester School of Management and former Pro Vice-Chancellor of UMIST, worked closely with Alan for a number of years and praised him for his affable nature and industrious spirit.
Professor Sir Cary Cooper said "He was funny and had a great sense of humour. He was bright, approachable and it was clear fellow staff and students loved him. Through his operations research and setting up of the IJMR, this really helped put the School on an international stage. When he retired he couldn't wait to spend more time with his family which I think shows what a caring man he was."
Alan's funeral will take place at St Philip and St James Church in Alderley Edge at 2pm on Friday 8th February. All who knew Alan or his family are welcome to attend. Family flowers only. Donations to The Christie Charity.
Photo: Alan receiving an honorary doctorate from the University of Kiel in Germany.