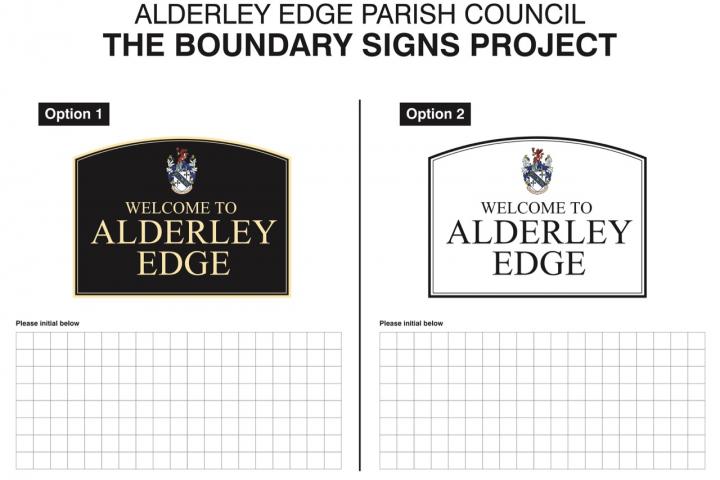 As many local residents will be aware, Alderley Edge Parish Council is looking to develop new boundary signs to mark the road boundaries to our village.
Last year they invited local residents to consider two options, either sticking with a more 'traditional' approach to boundary signs using ones similar to most towns and villages in the country or, their preferred option, using their new logo to create more "stylish" signs.
The overwhelming vote was for Option 1, the more traditional design.
The Parish Council then sent this to their design and manufacturing company for detailed proofs and costings - and during that process it was been suggested that they look at the colour of the traditional design, which had also been suggested in some of the responses received.
In order to explore this option, the Parish Council has arranged for boards to be circulated around the village this week and into early next week showing a variation on the original sign they put forward - see above.
They are hoping to gather at least 150 to 200 responses to the question 'Black or White'? You can also submit your response using the comment box at the end of the article.
Councillor Mike Dudley Jones said "Early indications are massively in favour of cream lettering on black - which would set us apart from Wilmslow whilst still being a traditional design. Approx. 75:25 at the moment."
The Parish Council allocated a budget of £4000 to this project and after next Tuesday, they will then get the signs ordered so they can be positioned in early spring.