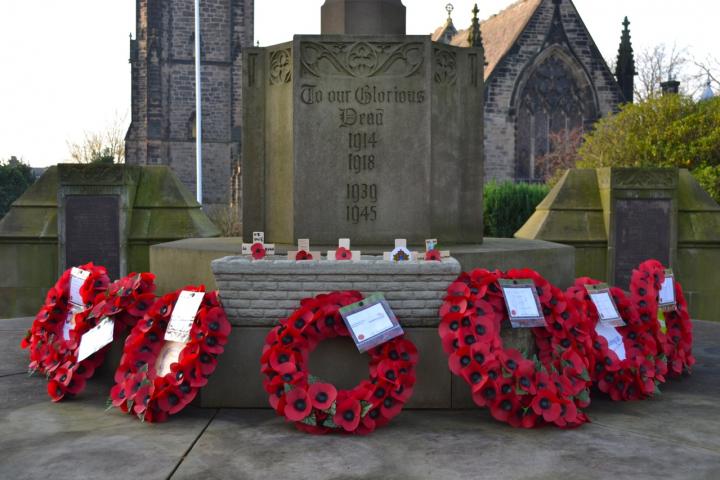 Over 400 men from Alderley Edge served in the forces in the First World War.Not all of them saw active service, for every army needs support services. But many had been in the trenches or in the campaigns in the Middle East.Some must have returned disabled or with health impaired by wounds. Many will have had traumatic experiences which they often refused to talk about. We do not know who most of them were. There is no surviving Roll of Honour for Alderley Edge, though there is one in the Methodist Church which has the names of 89 men "who are, or whose families are, connected with this Church and Sunday School".
Though we do not know the names of the others, they should all be honoured along with the men commemorated on the War Memorial. So let one about whom we do know something stand for them all. Sergeant Leslie Smith, Cheshire Regiment (2642, later 290685) was the son of Thomas and Mary Smith of Belmont, Alderley Edge. He attended the village school and then worked as a gardener on Woodbrook Road. He fought at Gallipoli and was unconscious for two days in the Turkish sun. He was then posted to Alexandria. He was wounded on the Somme (shot through the liver) and then he was returned to Bath War Hospital, Combe Park, Bath, to recover. His discharge said he was 'honourably discharged 30th November 1918'; he had served with honour and he was disabled in the Great War.
He was lucky to return home, marry and eventually have a family of six children. But the story of his family was typical of many. His younger brother Gerald, died from wounds on August 30th 1918. His elder brother Tom was gassed and returned home unable to work. And he lost two brothers-in-law: Rifleman Leonard Davies, who was killed ion action on the Somme in October 1916, and Private Robert Garner, who died in Flanders in September 1917.
Guest post by Michael Scaife.
Tags: