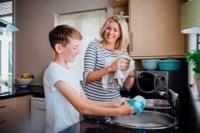 Two Ofsted inspectors visited Cheshire East Council for two days at the end of October to inspect its children's social care service.
The visit was not a full Ofsted inspection but was a follow-up to the last full visit from inspectors in July 2015, when the local authority was judged as requiring improvement to be good, with the adoption service judged to be good.
The government inspectors found that:
Social workers know the children in care very well and meet with them regularly;
Managers and staff have a strengthened focus on getting children and young people into their permanent homes earlier
Cheshire East is more focused on identifying potential carers within children's families;
There is increased confidence from the courts in social workers' practice;
Children are well-supported with their education through a virtual schools team;
The council has very positive working relationships with neighbouring authorities
However, they also noted what needs to improve in this area of social work practice:
Update assessments and plans that respond to changes in children's circumstances.
Care plans that are fully accessible to children and parents.
Return home interviews for children who go missing, and dissemination of learning from these to inform care and placement plans.
Clear and consistent recording of supervision and management oversight on children's case records.
The two-day visit included case discussions with social workers, meetings with senior managers and reviewing officers and an audit of recent case records. The council's performance management and quality assurance information was also evaluated.
Cheshire East currently has more than 500 cared for children and young people. The council's responsibilities range from producing effective care plans, assessing children's needs, identifying carers and assessing their suitability through to liaising with the courts over appropriate supervision and parental visiting rights.
Councillor Jos Saunders, Cheshire East Council cabinet member for children and families, said: "We know that our work in this area continues and we certainly won't be resting on our laurels but it's also important to celebrate successes, as well. This report is a welcome boost to the many dedicated staff working in our cared for children services.
"A key area of improvement for us has been our partnership working, particularly with neighbouring authorities. This has led to the creation of a new collaborative fostering agency 'Foster4', which is already providing more homes for our children and young people.
"The inspectors also recognised that we are doing some excellent work providing young people with a more permanent caring and stable home environment – and that's something I am especially proud of."
Tags: