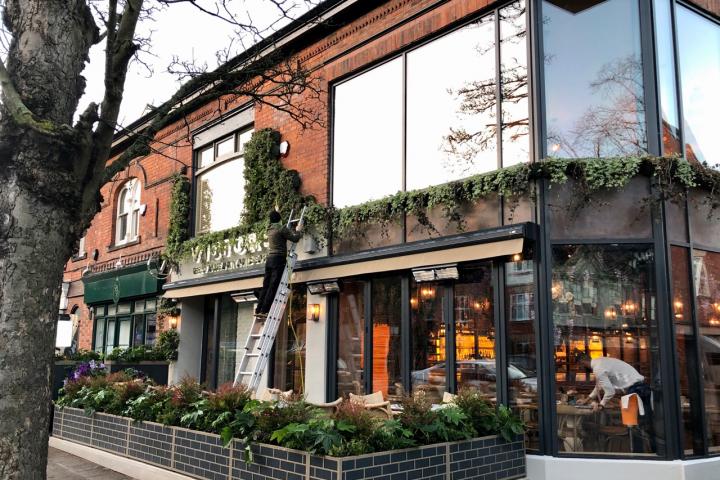 A new restaurant which opened in the village centre this week has applied to vary the trading hours on Fridays and Saturdays so that the premises can remain open for an additional hour.
Victors, which opened at 46 London Road, in the building previously occupied by The Alchemist, has submitted an application to vary the licence so they can sell alcohol from 9am to midnight Mondays to Thursdays, 9am to 2am on Fridays, 10am to 2am on Saturdays and 10am to midnight on Sundays.
They have also applied to play recorded music indoors from 9am to midnight Mondays to Wednesdays, 9am to 1am on Thursdays, 9am to 2am on Fridays, 10am to 2am on Saturdays and 10am to midnight on Sundays.
Additionally, the application is to enable them to add an additional hour on the night of Christmas Eve, Boxing Day and two additional hours on a Sunday before a bank holiday - as well as provide late night refreshments from 11pm to midnight Sundays to Wednesdays, 11pm to 1am on Thursdays and 11pm until 2am on Fridays and Saturdays.
Three objections have been received, one from a local resident, one from the landlord of neighbouring properties and the other from our ward councillor Craig Browne.
One resident wrote "As their neighbour I would like to make it clear that I am wholly against the change of licensing. As a restaurant in a village why do they need a licence for alcohol and amplified music until 2am?
"Because of these changes in operation times it means there will be more inebriated people around my home shouting and making more noise while leaving and queuing for taxis outside my front door, just like before but even later! Plus, loud music will be coming through the walls until even later than before."
Councillor Craig Browne said "I would like to register my objection to the playing of recorded music until 01.00 on Friday mornings and 02.00 on Saturday & Sunday mornings, as well as the proposed extension in opening times to 01.30 on Friday mornings and 02.30 on Saturday & Sunday mornings. I feel that these are inappropriate for a residential area and would have an unacceptable impact on the amenity of the adjacent apartments both at 48 London Road, as well as those above the Library and on nearby Massey Street."
He added "I also have concerns about the proposed provisions for refuse storage and collection. Currently bins are just dumped on the footpath on Brown Street, leaving it inaccessible to people with wheelchairs/pushchairs etc."
A landlord stated "The first and second floors consist of two residential flats that have been let since 1996. From that time the village has boomed with more and more restaurants. The disturbing thing about the latest circumstances is the fact that Victors is actually applying for special dispensation to be open later than any other restaurant or bar in the area until two o'clock in the morning, serving drinks and to be able to play amplified music for celebratory purposes. I find the disregard of consideration of neighbouring residents appalling. The previous business there, when it was trading as The Alchemist was already under investigation by Cheshire East Council for noise pollution. If Victors gets the permission it wants, I would ask; "what chance of our re-letting the flats would we have?"
Victors' application to vary their Premises Licence will be considered by Cheshire East Council's Licensing Act Sub-Committee on Thursday, 22nd November.
Craig Browne added "The meeting will be held at Macclesfield Town Hall, starting at 10am and is open to the public to attend and speak."
Tags: