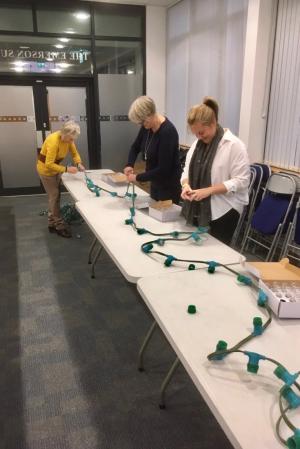 The Parish Council recently purchased replacement lights for the three Christmas trees located at the top of Ryleys Lane, bottom of Macclesfield Road and Wood Gardens at a cost of £4000.
What they had not realised though, was that the new lights and bulb-holders would arrive separately, therefore the councillors (ably supported by local residents Sarah Greenwood and Bev Chapman) set to work and managed to fit 2,000 bulbs in around an hour - ready or the annual Christmas lights switch-on on Thursday, 22nd November.
Councillor Craig Browne said "The new lights are now in place on the Christmas trees for this year, as we had been advised by the company who install the trees that the existing lights had reached the end of their life and that no new replacement sets would be provided.
"We are looking forward to seeing the new lights once they have been turned on and we are confident that they will be a significant upgrade on the previous ones."