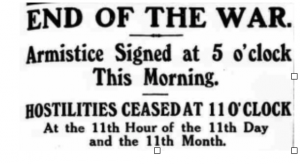 These were the headlines in the Manchester Evening News, but the local paper, the Alderley & Wilmslow Advertiser, has almost no reference to the armistice.
There was a report of a Thanksgiving Service in Wilmslow on 15th November, but no report of a similar service in Alderley Edge. We can be sure, however, that the church services on the Sunday after Armistice Day were thanksgiving services. The main local celebration of peace took place in July 1919
The end of the war did not bring to an end the deaths of local soldiers. The war memorial records the names of seven men who died in the 16 months after the armistice, as well as one who died on Armistice Day itself: Private Reginald Burgess, 1st/7th Battalion Cheshire Regiment. We have only basic information about him. The 1911 census records him as a stable boy aged 16 living with his grandparents at 55 Brook Lane.
The fact that he had two service numbers (3506 and 291059) shows that he had enlisted before 1917 and therefore must have served with the battalion in Egypt. It moved from Egypt to France on 31st May 1918 and took part in the final advance in Flanders beginning on 28th September.
It is likely that Private Burgess was wounded in this advance as he died in hospital at Wimereux near Boulogne. He is buried at Terlincthun British Cemetery nearby. He is also commemorated on the war memorial at St John's Church, Lindow.
Tags: