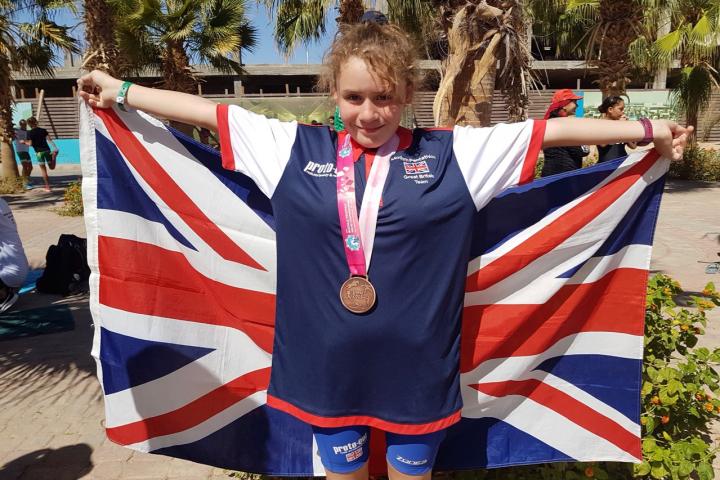 A talented young athlete from Alderley Edge has returned from the World Biathle and Triathle Championships with two medals.
Ten year old Steffi Berndt De la O, who attends Alderley Edge Community Primary School, was selected to represent Great Britain in the World Biathle and Triathle Championships in Egypt last month where she won a silver medal in the team Biathle and a bronze in the team Triathle.
Around 500 athletes were competing from 30 different countries and given it was Steffi's first time representing GB she did very well, ranking third in the World in Triathle under 11 - even without owning her own laser gun and having only practiced air pistol once a week at the Altrincham Rifle Club.
Her mother Alejandra De la O Tello "All athletes were fortunate enough to have great GB coaches on site and training was intense. Team GB was always united and all children and coaches worked well together.
"Steffi is very grateful to her school, Alderley Edge Community Primary and the head teacher that supported her to be able to attend the competitions."
Alejandra added "Steffi will be bringing the medals to school and would like to talk about the benefits of doing sports and also how fundraising through sports can help support charities and causes. If you will like Steffi to visit your school or institution and give a small presentation, please contact her through this email.
"Many thanks to alderleyedge.com for the space as well as Steffis' coaches from Stretford, City of Manchester, Sale Harriers and NWBiathle Hub."
Tags: